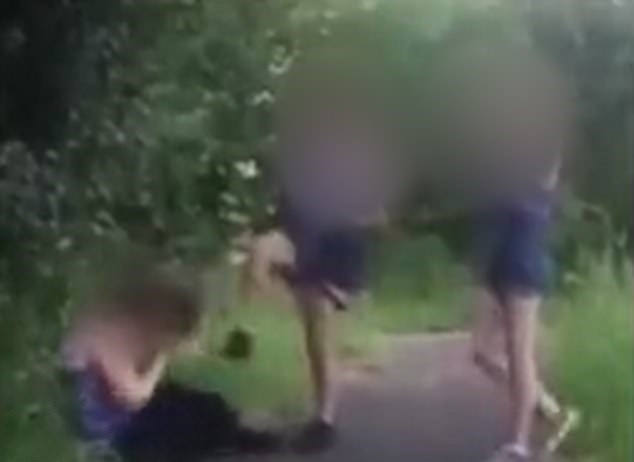 Police are hunting for two bullies who videoed themselves attacking a 12-year-old schoolgirl and uploaded the footage onto Facebook.
The shocking attack took place on Sunday (18 June) at 9pm in Mablethorpe, Lincolnshire. At the beginning of the video the two girls are seen arguing with the victim who is sat at the side of a country path.
In the video the girls are seen taunting the young victim, slapping and punching her and spitting at her. They then repeatedly kick her in the head as she cowers on the ground.
One of the girls calls her a 'cow' before kicking her squarely in the face. The pair take turns to kick the youngster as she pleads: "Can I go home?"
One of the girls replies saying: "No, you f******' can't." The helpless victim then asks: " When can I?" "When we're finished," they answer. Mocking her they say: "Oh, she's crying."
As the victim tries to get back up on her feet, each time she is kicked down by the cruel pair. The girl tries to escape by running down the country path as the bullies chase after her still laughing.
The footage was posted on Facebook by a horrified Mum and has since been shared over 1,800 times and been viewed by over 87,000 people.
She wrote: "Please share this video. What horrible nasty spiteful girls. No need for bullying especially two on one and not letting her go.
"Never felt so much anger. Spitting on someone is absolutely disgusting. Make sure these girls are seen for what they really are."
Another viewer wrote: "This has literally made me cry. That poor girl. Does anyone know if she's okay?? Xx"
Lincolnshire Police said they had launched an investigation and appealed for help in tracing the two attackers.
A spokeswoman for the force told Mail Online: "The victim is a 12-year-old Mablethorpe girl. The incident happened on June 18 around 9pm on Seaholme Road, Mablethorpe. There have been no arrests at this time but it is very much a live enquiry."
Anyone with information can contact police on 101.