Disturbing video shows teenager flinging cat in the air: 'Justice needs to be served'
The less than 10 seconds video shows the 16-year-old California boy laughing as he lifts the cat with both hands and flings it onto the road.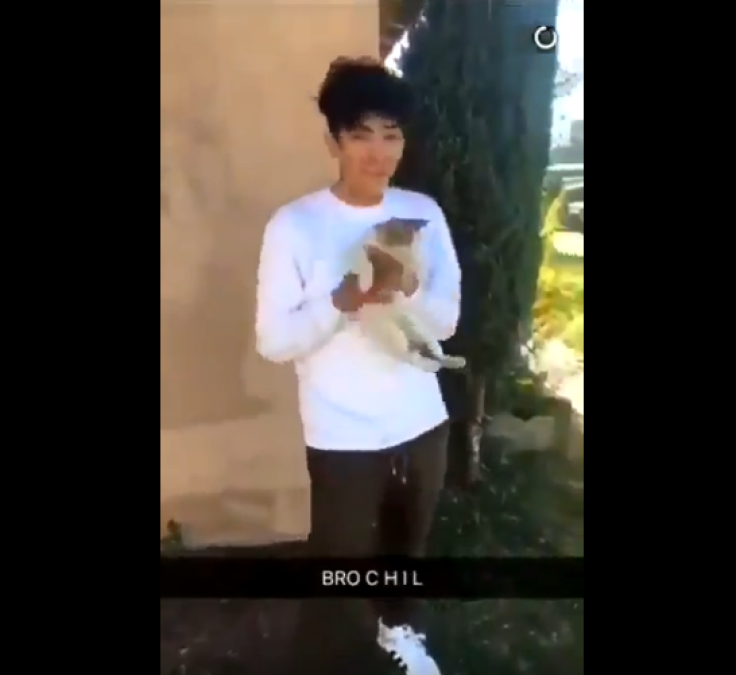 A disturbing video going viral on social media platforms has outraged people as it shows a 16-year-old boy in California flinging a cat high up in the air and onto the street. The cat suffered a fractured leg initially, but is said to have died due to internal bleeding.
Nearly 1,600 people have commented on the original post demanding justice for the cat and punishment for the teenager.
The teenage boy, seen in the less than 10 seconds video (Graphic content), was identified on social media as Charlie. He is seen laughing as he lifts the cat with both hands in the front yard of a home and flings it high into the air. He can be heard laughing again as the cat lands hard on the road.
The video has reportedly been filmed in Ontario and was was originally posted on Snapchat. A Twitter user by the name Donald who spotted the video on Snapchat then uploaded it on the social media site, Metro reported.
The post attracted the attention of hundreds of animal lovers who sought punishment for the merciless teen. Maggie Babbee, one of the 1,600 people who commented on the original tweet said: "Justice needs to be served, that poor cat didn't deserve that, it really broke my heart hearing the cry for help it was making."
Another user said: "I really just want someone to drop his name. Damn psycho. If he's done that to an animal, he has the possibility of doing it to a person. He needs help."
Another person refferred to the teenage boy as a "serial killer" in the making. "He's not okay at all. This is how serial killers grow."
Meanwhile, the Fontana Police Department on Saturday (2 December) said on Twitter and that they have received complaints about the video by several people.
"We are aware of a video that depicts the abuse of a cat. We thank everyone for contacting our department with the video," the department said in a statement. "It has been determined that the incident took place outside our city and we are working with the appropriate jurisdiction to find the cat and the suspect."
Earlier on Twitter, the Ontario police department had announced that the cat had a fractured leg, "but is going to be ok."
However, a girl believed to be living on the street where the incident took place claimed the cat died due to internal bleeding after it landed on a concrete ground, Metro wrote. However, there was no official confirmation on the cat's death.