The Democratic National Convention got off to a rocky start on Monday, 25 July, with Philadelphia police detaining and citing 55 protesters outside the Wells Fargo Center, while Bernie Sanders supporters revolted on the convention floor.
Despite calls from Democratic leaders to calm down, Sanders supporters repeatedly disrupted speakers with boos and jeers at the mention of Hillary Clinton's name.
Protesters outside of the convention were just as animated as those inside. According to Los Angeles Times reporter Matt Pearce, 55 demonstrators were detained in a rather orderly fashion by awaiting police. Police issued the protesters civil citations for disorderly conduct but did not arrest them, authorities confirmed.
Demonstrators with Democracy Spring reportedly attempted to enter the secured perimeter around the convention but were quickly stopped by police.
Meanwhile, Sanders' supporters inside the convention made sure speakers and the Democratic Party knew just how angered they were. According to Reuters, supporters yelled "We want Bernie" and booed Clinton's name each time it was mentioned. Some supporters even altered their "Love trumps hate" posters to read "Bernie trumps Trump".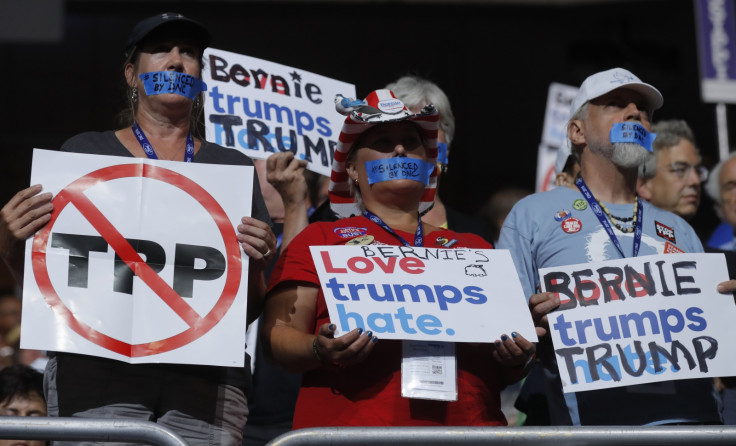 CNN reported that Maryland Representative Elijah Cummings was also drowned out by shouts of "Stop TPP"—the trans Pacific trade pact that Clinton once supported and Sanders has always opposed. Similar interruptions occurred during Maine State Representative Diane Russell's speech and others.
Sanders himself drew jeers when he asked his followers to fall behind Clinton and present the world a united Democratic front. In an email to delegates as the convention opened, Sanders pleaded with them not to interrupt the event, according to a report by Reuters.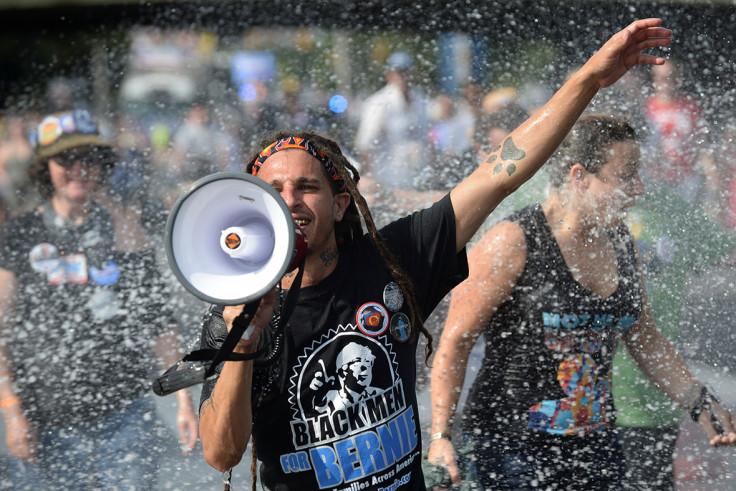 "Our credibility as a movement will be damaged by booing, turning of backs, walking our or other similar displays. That's what the corporate media wants. That's what Donald Trump wants," Sanders said. CNN reported Sanders also texted his floor supporters to "not engage in any kind of protest on the floor" as "a personal courtesy to me".
Meanwhile, Republican nominee Donald Trump has jumped on the division in the Democratic Party. "While Bernie has totally given up on his fight for the people, we welcome all voters who want a better future for our workers," he tweeted.
Tempers have risen among Sanders supporters following the release of leaked emails regarding the Democratic National Committee's apparent favouritism towards Clinton. The DNC has since issued a "Deep and sincere apology to Senator Sanders, his supporters, and the entire Democratic Party for the inexcusable remarks made over email".
The leak also forced DNC chair Debbie Wasserman Schultz to resign her position and to forgo opening the convention. Sanders and First Lady Michelle Obama are among the speakers slated to speak during the primetime slots in the first night of the DNC.