Tuesday night was a game changing evening as Hillary Clinton took California and claimed that she was the Democratic presidential nomination, formally stepping up to what looks to be a Trump .vs. Clinton battle for presidency.
The first woman in American history to be nominated by a major US political party for for a presidential run, it is a moment that many did not see coming. Indeed, many hoped it would never happen, including the hoards of Democratic millennial voters who ardently followed competitor Bernie Sanders along the campaign trail, perhaps supporting Hillary as a woman but not as a politician.
Now the race is focusing on Clinton – despite claims from Sanders that he will continue to fight on as he states that superdelegate votes are unbound– her campaign needs to retrieve these young voters
According to media mogul Tina Brown, former editor of Vanity Fair and the New Yorker, it is Clinton's clothing choices that are keeping her from securing their vote.
Speaking on BBC Radio 4 after the nomination news, Brown told the Today Programme that Clinton was not cool enough for young people: "The Hillary that [millenials] like is the fierce faced Hillary that has the black shades and the Blackberry that you saw in that famous shot when she was travelling when she was secretary of state, that they find cool."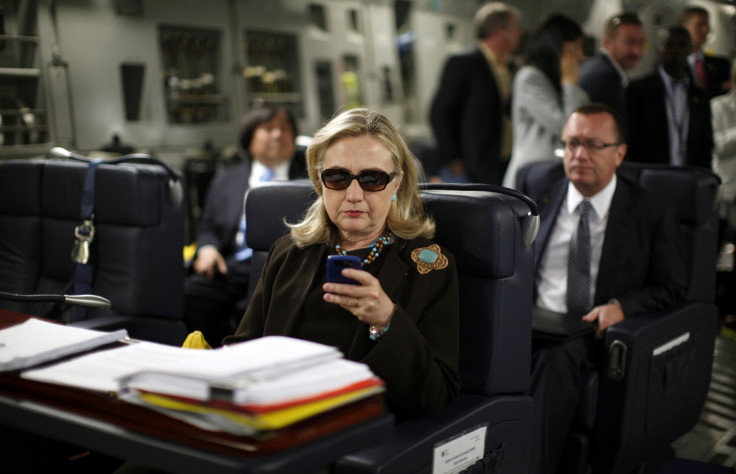 "What they don't like is the Hillary now. She has really had wardrobe issues, which is the truth in this campaign," Brown said, continuing to denounce Clinton's style as the definition of 'uncool' also noting that she needed to get rid of the "Sergeant Pepper trouser suit". Hussain called Brown up on this claim asking if "In the 21st Century, to a young feminist ... [does] her appearance, the actual clothes she wears... matters?" Brown responded that Clinton would do better with a "kind of a uniform, so nobody's thinking about clothes".
The presumption that young voters would be swayed by Clinton's choice of jacket enraged many who criticised the former editor's candid opinion that young and informed voters would be swayed by fashion.
However, pitchforks were raised due to Brown's comments shortly after US social media lit torches ready to scorch Clinton. On 5 June, New York Post revealed that her campaign style was part of a six-figure sum wardrobe-overhaul which included a $12,495 (£8,553) Giorgio Armani tweed jacket – worn when the presidential candidate won the New York primary.
The statement piece was seen to demonstrate Clinton's inability to relate to the regular voter and, yes, it may have been a lavish choice but this was also the choice of a woman celebrating another achievement in a challenging race, so perhaps Tina Brown has a point.
Clinton is now vilified if she goes too lux but ripped apart if she makes no effort at all. The race for 'the top' has truly begun. Segueing seamlessly from First Lady to senator to secretary of state to Democratic presidential nominee, it is only now Clinton's style choices are being so closely scrutinised.
It appears as though Michelle Obama's penchant for US luxury, directional designers, such as Prabal Gurung or Jason Wu, is praised as much as her overall personal style. Clinton, however, can be a friend of the fashion industry as long as it doesn't change her 'look' too much.
US Vogue editor Anna Wintour famously wore a Clinton campaign T-shirt to a Marc Jacobs show and the latter has designed campaign T-shirts but, as such, none of the designer mentioned have made it into Clinton's personal wardrobe.
The habitual and self-confessed "pant-suit aficionado", Clinton has often been described as possessing a statement uniform, but perhaps that is no longer enough. Present throughout the 2016 campaign – seen previously as a rainbow carousel of the same style worn in 2008 – to up her game, the pantsuit look is now transformed into a plethora of plaid, jacquard, silk and more.
Just like Michelle Obama, Clinton was once also in style pole position. However, the freedom afforded the president's wife is a far cry from that offered to the first serious female presidential candidate.
The lavish Ralph Lauren and Donna Karan state dinner dresses have been replaced by sharp tailoring and strong silhouettes but it is naive to assume the brands Clinton closely championed will now be disregarded. Speaking to Lena Dunham, Clinton reminisced about an iconic Donna Karan 'cold shoulder' dress that she wore to one of the first state dinners back in 1993.
"I do love to fool around with fashion and have some fun with it. And so I wore this, and a lot of the political pundits [said]: 'What is the meaning of this?' and everything. I thought it would be fun! You've got to still have fun in all of these different roles that you're in or I'm in or anybody is in their life."
Where does this playful fashion sense sit in her new position now though? Brown noted that her clothes matter now "because they change so often" and a uniform stops anyone thinking about your clothes. If no one notices what you're wearing they can't criticise it.
This issue is still inherently gender biased. The critics and Saturday Night Live cast might be after Donald Trump for his hair and questionable tan but they never mention his fancy Brioni suits costing over £3,000 off the rack; while Sarah Palin was pulled up straight away for her reported $150,000 campaign makeover in 2008.
When it comes to those stalwart political figureheads in the public eye our perception shifts again. You probably couldn't say which brands Angela Merkel wears. Each muted tailored jacket and contrasting tailored trouser blends perfectly into the predominantly suit filled political playing fields that Clinton previously slotted neatly into.
So much so that German newspaper Frankfurter Allgemeine ran an article with images (cropped from the waist down of Clinton, then US secretary of state standing next to equally pant-suited Chancellor Merkel, entitled 'Which one is Merkel, which one is Clinton?' The German leader liked this so much she had it framed and presented the image to Clinton during a White House state luncheon back in 2011.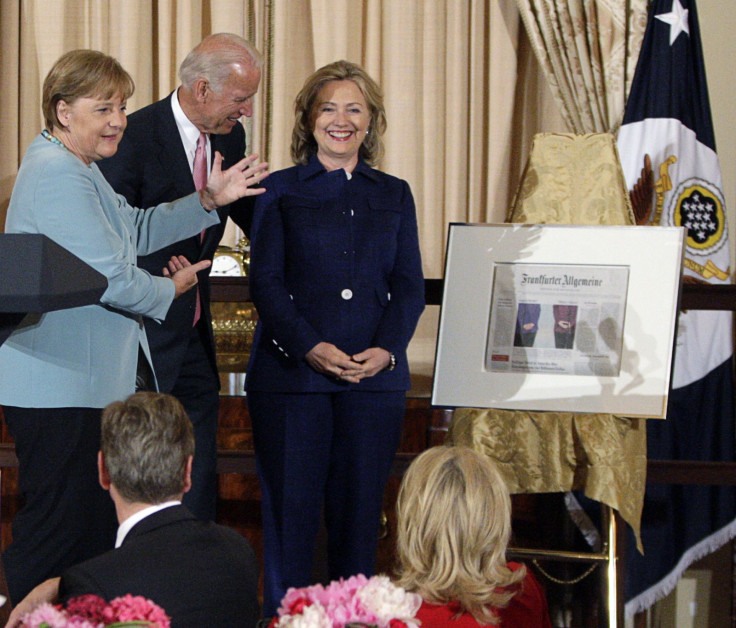 Although often derided as frumpy, Merkel has learned to shield herself from any sartorial daggers aimed her way. Clinton's silks and luxury pant-suits are incongruous conversation starters, whether positive or negative. For a woman who has moved from stage left to centre stage, Clinton carefully decides when she should stand out and when to remain anonymous. Firmly in power, Merkel has used a non-grandiose appearance to her advantage. Named the most powerful woman in the world successively by Forbes, this is a strategy that is surely working. At number two, Clinton is clearly carving out an image in a similar vein.
Of those young people longing for the return of the Blackberry and black-shade donning, no-nonsense politician – who Tina Brown commands "must own her inner bitch" – many may rediscover a new Clinton. A survey from MTV's Elect This has stated that 57% of millennial Sanders supporters will vote for Clinton after he drops out of the race.
Millennial or otherwise, those who remain unsure of the Clinton campaign should take cognisance of the fact that she knows the political and sartorial landscape in and around the White House, and should focus on her politics rather than her shade of lipstick.