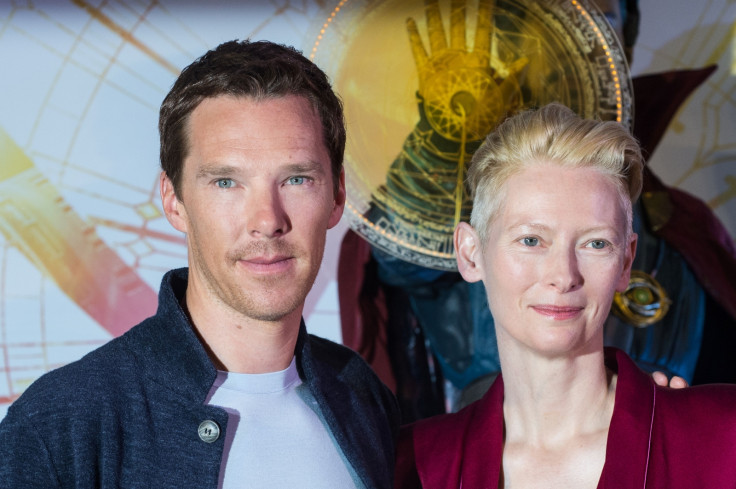 With only a few weeks to go before the release of Marvel's new film Doctor Strange, its stars Benedict Cumberbatch and Tilda Swinton took time out for a Q&A session via Facebook Live. The two decided to up the stakes (literally) with a game of Jenga while answering questions from fans (which were written on the game bricks).
Swinton (The Ancient One), who confessed at the onset that she was not familiar with the game, was the first to pull out a brick. Asked about her favourite holiday destinations, she said, "I haven't seen enough of my own bed for a while, so I'm quite keen on opening a portal right now and going straight in my bedroom."
On the other hand, Cumberbatch, who plays the film's hero Stephen Strange, got a film-related query. He was asked what scientific principles he learnt while filming Doctor Strange. "Quantum Theory, the idea of the multi-versal multiple realities, being able to carve some type of spatial wormhole," he listed on.
"The idea of time being relative and things affecting you in that environment but not necessarily everything else in it depending on what speed you're moving at... Schrödinger's cat to an extent," he continued, before adding, "And obviously the practice of neurosurgery."
To this Swinton asked if he would step up if he was on a plane and they asked if there was a neurosurgeon on board. "Yeah, I could definitely scrub up in the little aeroplane loo... I'd be ready to roll. Just get one of those plastic knives out, a few serviettes and just get carving," the Sherlock actor joked.
The British actor went on to talk about some of the surprises fans can expect from the film version of the Marvel comic character. "Despite being a super hero he is super human-human... in the sense that you could still physically harm him. If you had to catch him unawares at a restaurant you could do some damage," he explained.
Watch the complete Facebook Live video below: