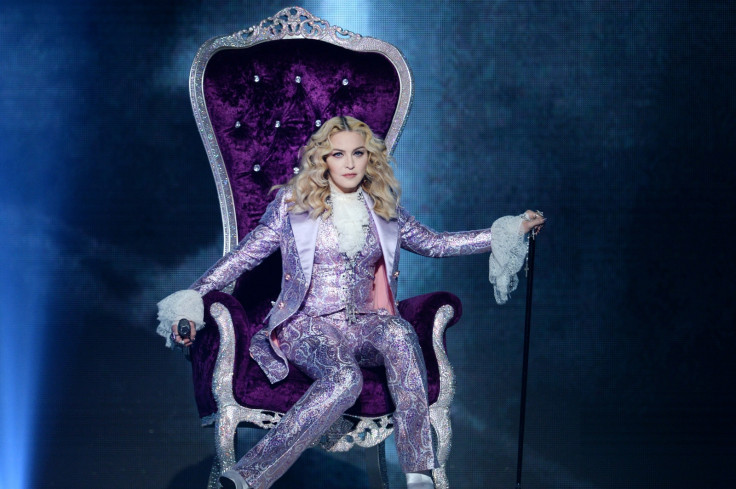 Madonna took to the stage at Madison Square Garden and promised voters she would treat them to something she claimed to be "good at", if they elected Hillary Clinton as president.
While opening for comedian Amy Schumer on 18 October, the pop icon tried a bit of humour herself, promising the audience: "If you vote for Hillary Clinton, I will give you a b*****b." The 58-year-old took the opportunity to boast about her sexual prowess as well. "I'm really good. I'm not a douche and I'm not a tool. I take my time, I have a lot of eye contact and I do swallow," she said.
Later that night, the Like A Virgin hit-maker posted a photo with Schumer on social media with the caption: "Love and Respect this woman so much!! Thanks for letting me get on your stage! It was AWESOME!! You were AWESOME!"
Twitter however, was still reeling from her racy comments.
In September, Madonna followed in Katy Perry's footsteps by announcing via Instagram that she would be voting naked for Clinton. She uploaded a selfie in which she can be seen topless with her face partially visible. The caption to the image read: "Im voting naked with Katy Perry!! Vote for Hillary. She's the Best we got!. Nude Voting series # 1."
The Material Girl singer has been known to make outrageous statements, especially while talking politics. In 2012 she earned criticism for telling her concert crowd: "Y'all better vote for f*****g Obama, OK? For better or worse, all right? We have a black Muslim in the White House. Now that's some amazing s**t."
She later clarified that she was simply joking. "I was being ironic on stage. Yes, I know Obama is not a Muslim – though I know that plenty of people in this country think he is," she said. "And what if he were? The point I was making is that a good man is a good man no matter who he prays to. I don't care what religion Obama is – nor should anyone else in America."