The BBC has announced a trio of companions for Jodie Whittaker's 13th Doctor ahead of the new series of Doctor Who next year. Among them is Bradley Walsh, best known as the presenter of ITV gameshow The Chase.
Joining Walsh will be Mandip Gill, who has starred in Hollyoaks and Doctors, and Tosin Cole, who's no stranger to intergalactic adventures having played a Resistance fighter pilot in Star Wars: The Force Awakens.
Holby City actor Sharon D Clarke will also be joining the show in an unnamed role.
Whittaker was announced as the first woman to play the Doctor in July. She'll take over from Peter Capaldi during this year's Christmas special, which will also mark the departure of longtime showrunner Steven Moffat.
New showrunner Chris Chibnall will take the show forward with Whittaker as his lead. The pair worked together on ITV mystery Broadchurch, which gave the actor one of her most popular roles as a grief-stricken mother.
The BBC also announced that the show will return in Autumn 2018 for a ten episode run. The opening episode will be an hour long, with each subsequent episode running for 50 minutes.
Discussing joining the show, Walsh recalled watching Doctor Who in his youth: "I remember watching William Hartnell as the first Doctor. Black and white made it very scary for a youngster like myself.
"I was petrified, but even though I'd watch most of it from behind the sofa through my fingers, I became a fan. Am I thrilled to be part of this whole ground breaking new dawn for the Doctor? Oh yes!"
Walsh will play a character called Graham, while Gill and Cole will play Yasmin and Ryan respectively. Each will be a recurring character on the show.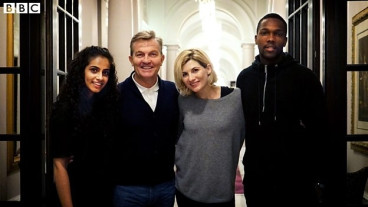 Gill said: "I am over the moon to be joining the Doctor Who family. This is an iconic show with an amazing fanbase and I look forward to everything that brings. To be working alongside the likes of Jodie, Bradley and my old friend Tosin is thrilling.
"This show is worlds away from the work I've done previously and that's the part that excites me the most."
Cole added: "I'm grateful and excited to be a part of this journey with the team. I'm looking forward to jumping in this Doctor Who universe."
Whittaker is certainly happy about who she'll be sharing the Tardis with, calling the cast a "dream team".
"The new Doctor is going to need new friends," said Chibnall. "We're thrilled to welcome Mandip, Tosin and Bradley to the Doctor Who family. They're three of Britain's brightest talents and we can't wait to see them dive into brand new adventures with Jodie's Doctor."