Thousands of fans still reeling from the epic 50<sup>th anniversary Doctor Who episode The Day of the Doctor, which was broadcast around the world on Saturday, were up early on Sunday morning to celebrate at the ExCel centre in London.
Wielding sonic screwdrivers, wearing fezes and wrapping up warm in oversized scarves, the 'Whovians' assembled to hear about the incredible explosions, CGI, fires and laser beams that make the world's longest running sci-fi series come alive.
Special effects supervisor Danny Hargreaves told the audience about his journey from a school drop-out to the upper echelons of SFX (special effects) royalty. He has been involved in every Doctor Who episode since Christopher Eccleston popped on to our screens as the ninth Doctor in 2005.
After several in-jokes about Cuppa Soups and fezes from the anniversary episode, which starred Matt Smith, David Tennant and John Hurt, the 1,000-strong audience were (almost literally) blown away by an explosive compilation of the best SFX to grace our screens since the series was rebooted.
A Dalek from The Day of the Doctor and other episodes boomed "exterminate" before exploding in a ball of smoke and fire. According to Hargreaves, Daleks were made out of bubble foam previously, which disintegrated on explosion. Today's Daleks are made in a jigsaw-like design, meaning each one can be put back together and reused.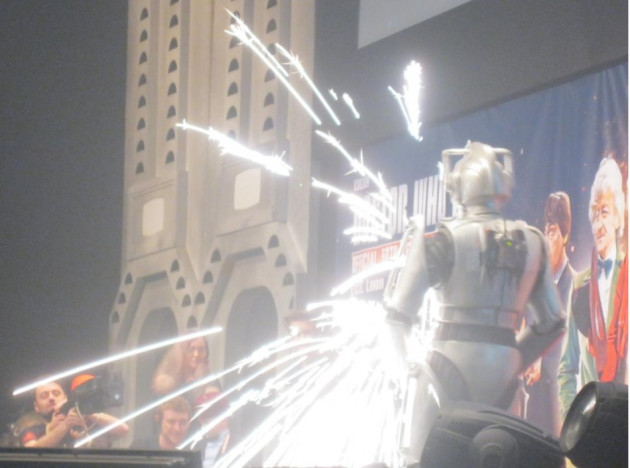 With a shower of electrics and a near deafening burst and a crack, a Cyberman crashed on stage, to screams from children in the audience.
Two 'volunteer' doctors, tiny chaps called George and Miles, used an oversized gun and their sonic screwdrivers to bring the Cyberman down.
But after the glorious video tracks and audience participation, the crowd was greeted with a raft of SFX spoilers which showed how the TV show comes to life.
From controlled explosions to wind machines, Hargreaves walked us through how the opening scene from The Day of the Doctor was constructed and what was scientific magic and what was real.
In terms of spoilers, Hargreaves was struggling to keep the BBC show's secrets, but told the audience that the Christmas special is going to be "bigger, better... huge".
"Where do we go from here when we've just had the last episode?" he asked.
"I told Steven Moffat that there is only one direction. The only way is bigger, better and by pushing it to another level."
ALSO READ: Review roundup of 50th anniversary Doctor Who special