Four doctors with the have been killed in air strikes on a medical facility in southern Aleppo, as Syria reels from a series of attacks on humanitarian targets following the end of a ceasefire brokered by the US and Russia which lasted just four days.
In a statement the international Union of Medical Care and Relief Organisations has said the attack struck within rebel held territory in Khan Tuman. It added the emergency workers were young and had been working for a medical triage point.
The Associated Press reported that the facility was levelled by the bombing. The UK-based Syrian Observatory for Human Rights monitoring has said the death toll in the attack was as high as 13 dead, among them four nurses and paramedics and nine rebel fighters. They are believed to have belonged to Jabhat Fateh al-Sham, a group linked with al-Qaeda. It is not clear who carried out the air strike. Both Russia and the Syrian government carry out bombings in the area.
The attack comes just days after a 6-day-long ceasefire brokered by the US and Russia in Syria ended, and a little over 24 hours after a UN aid convoy carrying supplies to rebel-held Aleppo was bombed by war planes.
The US has concluded that Russian warplanes bombed a humanitarian aid convoy and warehouse in Syria Monday (19 September) night. The convoy and warehouse, which belong to the Syrian Arab Red Crescent, were located in the area of Urum al-Kubra.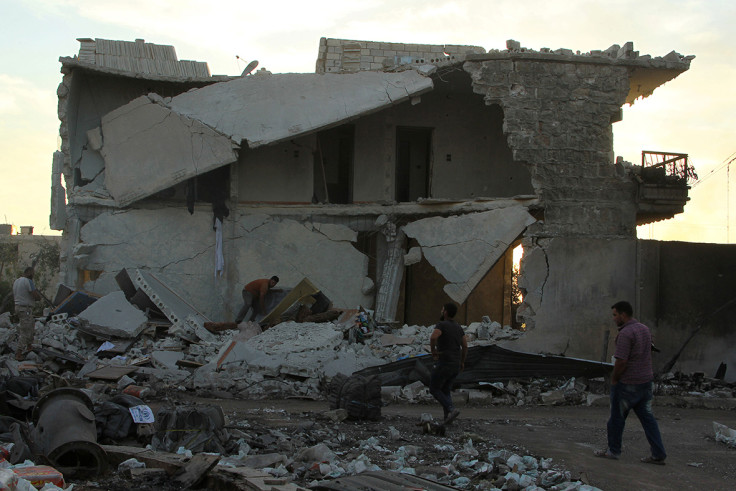 "All the evidence we have points to that conclusion," a US official told CNN. The overnight bombing west of Aleppo led the UN to halt its own aid operations in the war ravaged nation. The bombing killed around 20 civilians as well as the director of the Red Crescent's Urum al-Kubra branch, Omar Barakat.
A spokeswoman for the international medical organisation told IBTimes UK that an attack deliberately targeting the convoy could constitute a war crime. She said while it would take time and legal work to establish whether the ICRC would not rule out the possibility.