A dog died after being found buried alive on Tuesday (6 June) on a trail in Georgia. Now an animal charity is offering $10,000 (£7,750) for information leading to the arrest or conviction of the torturer(s).
The Chow Chow mix was discovered buried up to the neck by a walker and his daughter near Rock Mountain Boulevard, DeKalb County.
The female canine was still hanging onto life when they found her, having suffered for many days. She died of chronic dehydration.
Animal campaigners Peta are determined to bring those responsible to justice. They had initially offered a $5,000 reward, but today doubled that offer.
"Someone must know where this dog came from and who buried her alive, leaving her to suffer in terror for days," said Peta Vice President Colleen O'Brien.
"Peta is urging anyone with information about this dog or her tormentor to come forward immediately before anyone else gets hurt."
The man who found the dog, Eric Purdue, dug her out of the dirt and rushed her to a vet – but unfortunately she could not be saved.
He and his daughter Ashley named the suffering animal Lulu – they had planned to adopt her if she had survived.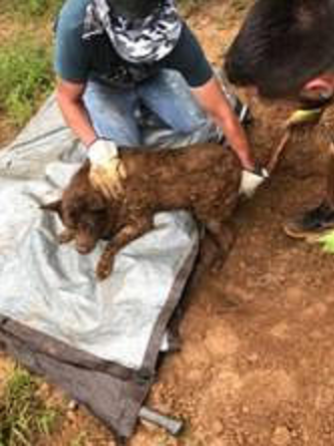 Purdue told AJC News that Lulu had ants crawling over her face when they found her. He took pictures of the tragic scene, which have been shared with IBTimes UK by Peta.
"It was ridiculous," he said. "Somebody took a lot of time to do a terrible thing."
It is not known who the owner of the dog was. Peta advise pet owners not to leave their animals unattended in unsecured areas.