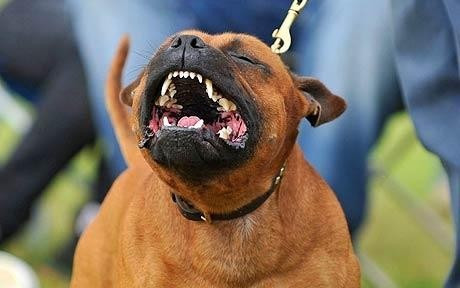 Eleven children have been injured in a dog attack in a fenced play area in a park in Northumberland. The Staffordshire Bull Terrier was eventually restrained by a parent after biting the children in the park in Blyth. Three of the children were hospitalised overnight after the attack at 6.30pm BST on Wednesday 18 May, said Northumbria Police.
A 37-year-old woman has been arrested on suspicion of having a dangerously out of control dog, police said.
The father of a seven-year-old girl injured in the attack told the BBC that she will need skin grafts. He said that he saw the dog attacking the children, grabbed and sat on the animal before tying it to a fence.
"My daughter's seven and she's got to have an operation now. They're looking at the possibility of having to have skin grafts. She's frightened of dogs now for the rest of her life and frightened of parks," he said.
Sheryl Allison, whose daughter was in the park at the time, told ChronicleLive: "The dog attacked about 14 kids, it was like a terrorist attack. There were injured kids lying all over the place, it was a war zone.
"Eventually a dad of one of the girls saw what was happening and sprinted into the park and jumped on the dog, he pinned it down until the police arrived. The whole street has been traumatised by this, nothing like this has ever happened before."
A spokeswoman for Northumbria Police said officers remained in the area to reassure people. She added that the dog is being kept in a secure kennel.