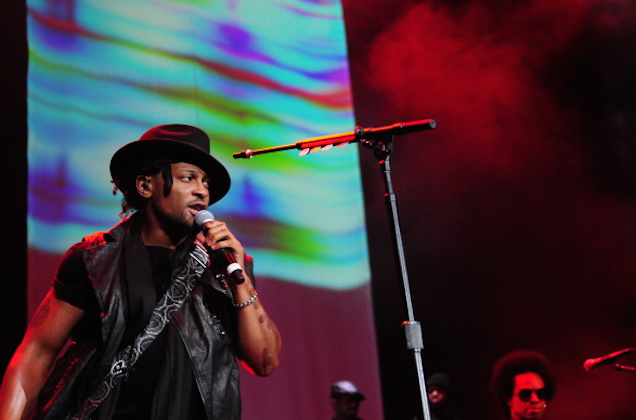 In December 2013 Beyoncé released her game-changing self-entitled album with no warning and no promotion.
And a year on it looks like D'Angelo has taken a leaf out of Queen B's handbook.
After a 14-year wait, the r'n'b icon who brought us Brown Sugar has surprised fans by dropping his highly-anticipated new album Black Messiah out of the blue.
The LP, which features 12 tracks, is the follow up to his critically acclaimed 2000 album Voodoo and is available on iTunes and Spotify.
The Charade, Sugah Daddy and Really Love are just a few of the tracks that were unveiled at a New York City listening session hosted by author Nelson George over the weekend.
"Black Messiah is a hell of a name for an album. It can be misunderstood. Many will think it's about religion," D'Angelo explained in a lyric booklet passed out at the event.
"Some will jump to the conclusion that I'm calling myself a Black Messiah. For me, the title is about all of us. It's about the world. It's about an idea we can all aspire to. We should all aspire to be a Black Messiah."
In a statement about the album, the enigmatic neo-soul singer added: "It's not about praising one charismatic leader but celebrating thousands of them. Not every song on this album is politically charged (though many are), but calling this album Black Messiah creates a landscape where these songs can live to the fullest. Black Messiah is not one man. It's a feeling that, collectively, we are all that leader".
Although D'Angelo had released a few tracks over the years, the Virginia native kept fans guessing whether a third album would ever materialise.
But it looks like it was worth the wait.
Black Messiah, which combines stripped-down jazz rhythms, funky soul and sexually-charged lyrics, has already received rave reviews from fans.
The Black Messiah full track list:
1. Ain't That Easy
2. 1000 Deaths
3. The Charade
4. Sugah Daddy
5. Really Love
6. Back in the Future (Part I)
7. Till It's Done (Tutu)
8. Prayer
9. Betray My Heart
10. The Door
11. Back in the Future (Part II)
12. Another Life