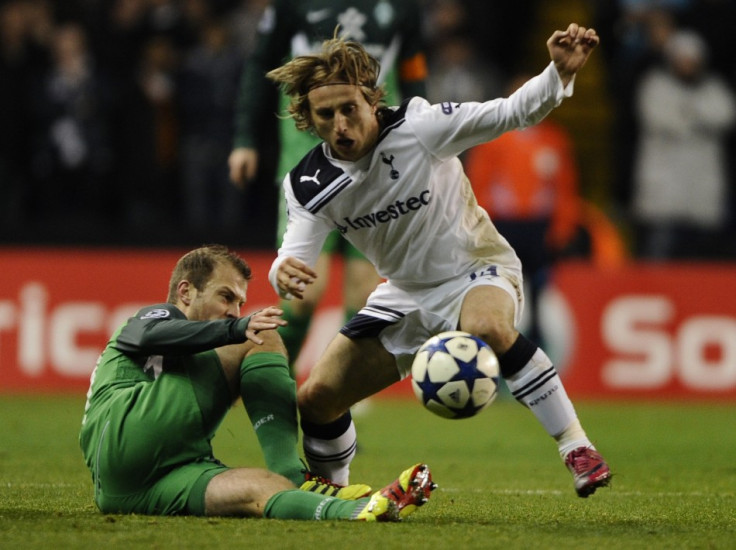 Manchester United will reportedly test Tottenham's resolve to keep star man Luka Modric with a £30 million bid next month.
According to the Daily Mail, Tottenham are endeavouring to tie the mercurial Croatian to a new deal in a bid to ward off Manchester United's increasing interest.
The Mai intimate Sir Alex Ferguson is willing to surpass the personal terms being offered by Tottenham, which will not exceed the north London club's stringent wage structure, in an effort to lure the diminutive playmaker to Manchester United.
Ferguson recently suggested he would not be "swayed by the endless tweets and blogs urging" Manchester United to enter next month's transfer window, but did acknowledge his intent if a "top-class player became available", presumably in the mould of Tottenham's Luka Modric.
Harry Redknapp has regularly championed Tottenham Hotspur's ability to retain their top players in light of their recently stunning form and promise of a potential title tilt against the likes of Manchester United and Manchester City. More importantly Spurs rejected hugely lucrative advances from Chelsea in the summer, and the Mail's purported bid from Manchester United falls short of the £40 million Redknapp and more importantly Daniel Levy rejected in the latter embers of the summer window.
Manchester United's perceived midfield weakness, exasperated by the injuries sustained to Tom Cleverley and Anderson, and the recent loss of Darren Fletcher to illness, has heightened rumour of an active January and indeed fuelled interest in a possible foray for the aforementioned Tottenham Hotspur talisman.
Although Manchester United's alleged soft centre has occasionally wilted this season, most obviously during their chastening derby defeat, the recent form of the perpetually lauded Phil Jones, and in particular Michael Carrick, has perhaps tempered Ferguson's need to bring in a player like Modric, even if the Tottenham star would fit seamlessly into a role previously occupied by a young Paul Scholes.
Ferguson believes it is high time Carrick became the player his obvious skills demand, challenging the reserved Manchester United star to become pivotal for a club that remains perennially associated with some of the finest midfielders in the world, such as the previously mentioned Tottenham Hotspur playmaker who is a currently a worthy rival to David Silva for the best player in the division this season.
"I think it's time Michael became the pivotal player of our team," the Manchester United manager said of Carrick, who he signed from Tottenham in 2006. "We've always known he's got that in him. He's a laid-back character - quiet, unassuming - but in different periods during his time here he's shown his quality. Now is the time for him to start a long period of dominating the centre of midfield like he has in the last few weeks."
"He's grasped the nettle - there's no question about that. In some ways, he's maybe seen the departure of Paul Scholes as his opportunity to be the main man in midfield." The Manchester United boss concluded.
While Carrick's form is a huge fillip for Manchester United, Ferguson would inevitably love to bring Modric to Old Trafford, but the £30 million fee reported would appear significantly lower than the figure required to make Tottenham boss Harry Redknapp part with his patently talented star.
Regardless of that, The Mail maintain Tottenham's desire to keep their player will be tested in January by Manchester United with a £30 million offer.