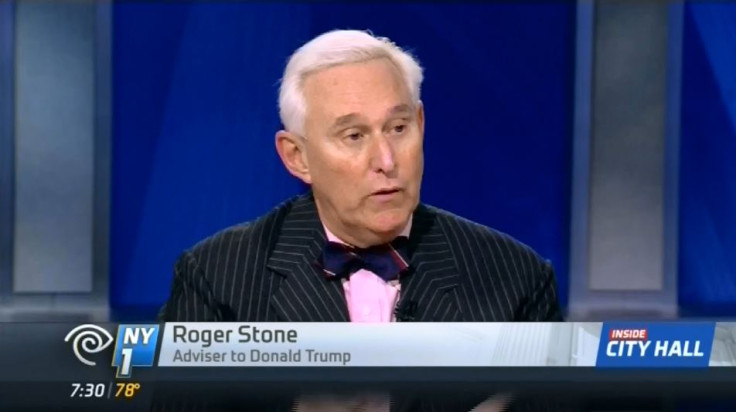 Outspoken Donald Trump supporter and former campaign aide Roger Stone has been banned as a guest on CNN after his incendiary tweets against two network political analysts, a Latina and an African-American former commentator.
The political operative has called CNN analyst Ana Navarro an "entitled diva bitch," a "pompous s---head," "borderline retarded," and a "rabid Pekinese." He has lambasted former analyst Roland Martin, making a racial slut against him and dubbing him "CNN's racist moron."
At one point he tweeted: "Did you hear that noise? That was @ananavarro killing herself."
Stone has referred to both Navarro and Martin as "quota hires" by CNN.
"He will no longer appear as a guest on CNN" a spokesperson told Politico.
Stone has been a frequent guest on various media outlets, including CNN, because of his close personal relationship with Trump. He's often called on to comment on the campaign. He appeared on CNN seven times in January.
"Is it surprising that a devoted supporter of Donald Trump would conduct himself so horribly as to draw a disqualification from a national cable channel?" asks Erik Wimple in a political blog in the Washington Post. "Not at all — just listen to Trump himself talk about women, Muslims, Mexicans and others unlike him."
Like Trump, Stone is proud to be "politically incorrect," he noted in his response to CNN's decision, which he said "smacks of Soviet-style censorship."
"I am an unapologetic critic of Ana Navarro because I question her qualifications to opine on any political topic — she is a 'Republican strategist' who has never actually worked on any campaign beyond an honorific title," Stone said in an email to Politico.
"I am politically incorrect but it appears CNN is bowing to pressure from the Clinton apparatus — not very appropriate for an supposedly unbiased news network," he added.
The issue of the tenor of his insults was first raised Media Matters, an online site about the media founded by Hillary Clinton supporter David Brock.