Donald Trump asked National Park Service chief for pictures to prove inauguration crowd size claim
Trump administration has been highly critical of media coverage around the inauguration.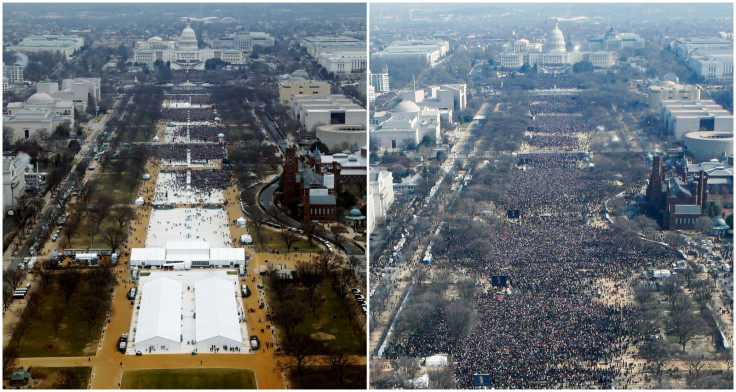 US President Donald Trump personally asked the National Park Service, a day after his inauguration, to produce additional pictures of the crowds at the National Mall to substantiate his claims of record breaking inaugural crowd.
Trump called the acting director of the National Park Service, Michael T. Reynolds, on Saturday, (21 January) three people in the administration familiar with the conversation told the Washington Post.
Trump reportedly believed that the photographs could prove that the media had lied in reporting that the crowd size had not been better than the average.
He also reportedly expressed anger over a retweet sent by the agency's Twitter account, which compared the crowd size of his inauguration with President Barack Obama's in 2009, sources said speaking on condition of anonymity.
Reynolds was allegedly taken aback by the president's request but did forward few additional pictures to the White House. The photographs, however, did not prove Trump's claim that the size of the crowd was over a million and a half.
The Park Service declined to comment saying, "The National Park Service does not comment on internal conversations among administration officials," spokesperson Thomas Crosson told Washington Post.
Sara Huckabee Sanders, White House deputy press secretary said that the call demonstrates Trump's management style to be "so accessible, and constantly in touch."
"He's not somebody who sits around and waits. He takes action and gets things done. That's one of the reasons that he is president today, and Hillary Clinton isn't," she said.
Trump administration has been highly critical of media coverage around the inauguration and alleged that media organisations are lying about the actual size of the crowds.
White House Press Secretary Sean Spicer also doubled down on Trump's claims on Saturday, of having the largest-ever inauguration audience.
© Copyright IBTimes 2023. All rights reserved.