Republican presidential frontrunner Donald Trump has hit out at Hilary Clinton, favourite for the Democratic Party nomination, saying she killed hundreds of thousands as secretary of state under Barrack Obama and criticising her record on Islamic State (Isis).
Trump, who has fuelled controversy around the world after saying the US should close its borders to Muslims, attacked Clinton, his likely opponent for the presidency should he receive the Republican nomination.
At his most combative, the property mogul accused Clinton, who served as Barrack Obama's Secretary of State from 2009 to 2013, of killing hundreds of thousands as a result of her handling of foreign policy.
"She was truly, if not the, one of the worst secretary of states in the country. She talks about me being dangerous. She has killed hundreds of thousands of people with her stupidity," Trump told Fox News.
"I am dangerous? She's the one who caused all this problem with her stupid policies. You look at what she did with Libya, what she did with Syria, look at Egypt, what happened with Egypt – a total mess," he said.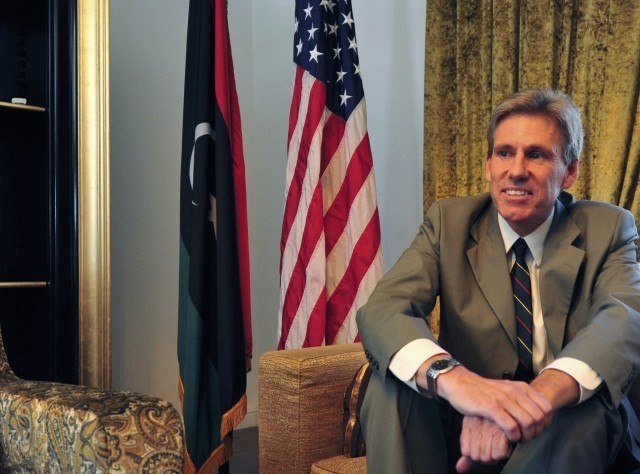 Trump said the Middle East was in chaos because of action taken by President Obama and Hillary Clinton, sarcastically referring to the pair as "two real geniuses".
"The Middle East is a total disaster under her ... As an example Iraq – total disaster. They didn't get us in but they got us out badly. We spend $2trn , thousands of lives, wounded warriors all over. Look at Libya, look at our ambassador, he wired her 500, 600 times asking her for help," Trump said.
The Democratic frontrunner and former first lady has been criticised particularly from the right for her handling of the death of US ambassador Chris Stevens in Benghazi in 2012. The diplomat was killed in a US consular building in eastern Libya after it was overrun by protesters, some of whom were linked to al-Qaeda.
Trump also attacked Clinton's character, attempting a short-lived impersonation. " She's got no strength, she's got no stamina. Everything she does is theatrical ... She looks like she practises in front of a mirror for two hours," Trump said.
"Hillary Clinton doesn't have the judgement, she doesn't have the strength or the stamina to be president. She'll be a terrible president and I think I'll win," he added.