A Saudi Arabian prince has called upon the Republican presidential candidate Donald Trump to give up his ambitions to be a world leader, as he will never win. Billionaire Prince Alwaleed bin Talal has called Trump a disgrace to the US, after his calls for a ban on Muslims coming into the country.
"You are a disgrace not only to the GOP but to all America," Prince Alwaleed, the chairman of Kingdom Holding, said on his Twitter account, addressing Trump and referring to the Republican Party. "Withdraw from the US presidential race as you will never win," the prince added.
Trump's comments have already cost him business in the Middle East, with a major chain of department stores halting sales of his glitzy "Trump Home" line of lamps, mirrors and jewellery boxes.
The American business magnate responded by tweeting: "Dopey Prince @Alwaleed_Talal wants to control our U.S. politicians with daddy's money," he said. "Can't do it when I get elected."
On Thursday, Dubai real estate firm Damac, which is building a $6bn (£3.95bn) golf complex with Trump, stripped the property of his name and image.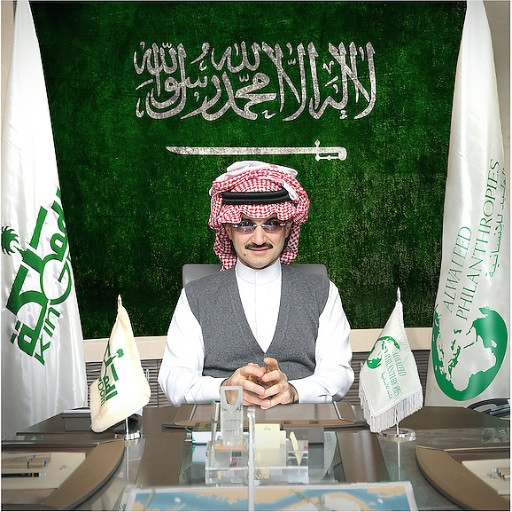 Prince Alwaleed, a nephew of Saudi Arabia's King Salman, has holdings in a number of international companies, including Twitter and Citigroup. In July, he said he will donate $32bn to charity in coming years via Alwaleed Philanthropies, according to NBC News.
Trump continued his presidential campaign on Saturday 12 December in Portsmouth, New Hampshire. He remained unfazed by a wave of condemnation over his remarks calling for a "total and complete shutdown" of US borders to all Muslims seeking entry to the US. He smiled and waved at a group of New England police officers, talking about the pressure, calling it "Unbelievable… incredible heat."
A new poll from NBC News and the Wall Street Journal suggests that 57% of all adults disagree with Trump's proposal of a ban on Muslims entering the US.