Donald Trump calls Jeb Bush 'dumb' and he says Republican rival is a 'jerk'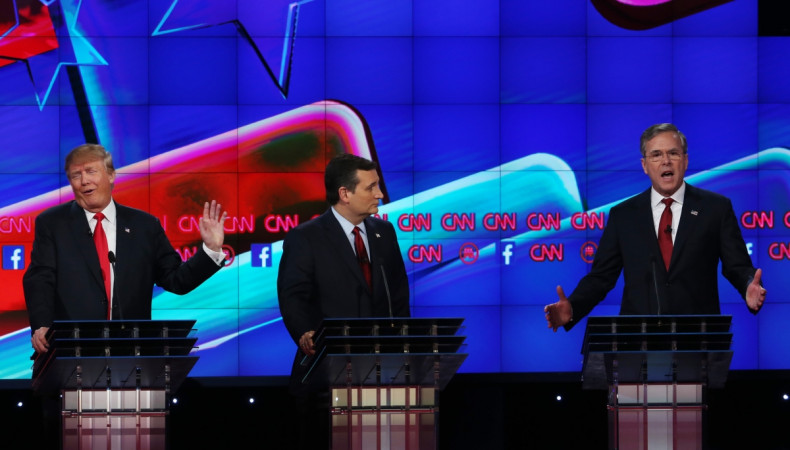 The battle of jibes continues between Republican rivals Jeb Bush and Donald Trump. On 19 December, Trump took to Twitter to call Bush "dumb as a rock" following which Bush told the audience at a town hall gathering in Contoocook, New Hampshire, that "Donald Trump is a jerk".
"You cannot insult your way to the presidency," the former Florida governor said while answering a question about disability put forth by a man suffering from Asperger's Syndrome. "You can't disparage women, Hispanics, disabled people. Who is he kidding?" In November, Trump had drawn criticism when he appeared to ridicule a disabled New York Times reporter.
Mud-slinging has become a prominent part of this year's presidential campaign, especially when the real-estate billionaire is involved.
Bush went on to tell his audience that they should not vote for Trump, and instead choose him to represent the party. "We should reject that out of hand. And I hope you're going to reject it by voting for me. But a guy like that should not be the front-running candidate of our great party. That is not how we win."
At another town hall meeting in Exeter, New Hampshire, he accused the businessman of lacking intellectual curiosity. "I don't think Donald Trump knows the Kurdish people are Muslim. That wouldn't be one of those things that naturally comes to him," Bush said. "He doesn't have much intellectual curiosity. It means the Kurds we're asking to fight the fight (against Isis) wouldn't be allowed to come into the country."
In a recent poll done for Fox News following the 15 December GOP debate, Trump had increased his support among Republican voters to 39%. Ted Cruz was also rising, although far behind in the second place with 18%. Marco Rubio and Ben Carson had slipped in the poll and Bush was stuck at 3%.