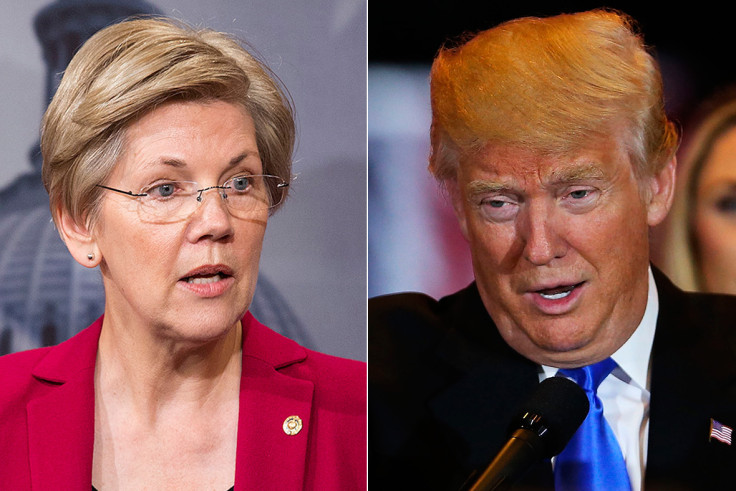 Republican presumptive presidential nominee Donald Trump has continued his feud with Democrat Elizabeth Warren, calling her 'Pocahontas' in an attack on what he says is her false Native American ancestry.
The GOP candidate has been embroiled in a war of words with the Massachusetts senator over the past few weeks, since she was tipped to be under consideration for Democrat hopeful Hillary Clinton's VP spot.
Trump has lashed out as Warren's heritage on repeated occasions, finally referring to her as Pocahontas in an interview with the New York Times when asked about his Twitter war with the senator.
"You mean Pocahontas?" Trump asked, adding: "I think it's wonderful because the Indians can now partake in the future of the country. She's got about as much Indian blood as I have. Her whole life was based on a fraud. She got into Harvard and all that because she said she was a minority."
Warren reportedly listed herself as a minority during her time at university, and has been extensively criticised over her ancestry by Trump, who has also referred to her as 'goofy' in a series of tweets.
In 2012, it was established by 'exhaustive research' that the senator was 1/32 Cherokee, the New York Times reported, which would allow her tribal citizenship.
Warren has hit back at Trump's previous remarks, labelling the presidential hopeful 'reckless' and adding: "can't talk about Wall St, college costs or min wage, so he spent all day belching insults. Pathetic. Really pathetic."
However, Warren has not responded to Trump's latest jibe, which, much like his previous attacks on President Barack Obama in 2012, question heritage.
Trump repeatedly insisted the president had not been born in the US and was not a 'real' US citizen – an allegation he has levelled at Ted Cruz, who was born in Canada to an American mother, this year – and kept asking for a copy of his birth certificate.