Donald Trump Jr, the eldest son of the US president, communicated directly with WikiLeaks in the two months leading up to the 2016 presidential election, newly leaked correspondence reveals.
WikiLeaks continued to message Trump Jr after the election, even suggesting the president-elect ask Australia to name founder Julian Assange as its ambassador to the US.
Trump Jr and WikiLeaks exchanged direct messages on Twitter between 20 September and 12 October 2016, correspondence copies given to congressional investigators show. The messages, which were obtained by The Atlantic, reveal WikiLeaks asked Trump Jr for his cooperation.
Several times, before and after the election, WikiLeaks asked the younger Trump to share its work relating to comments by Democratic nominee Hillary Clinton and the John Podesta email leaks. The correspondence between the so-called transparency agency and Trump Jr is largely one-sided, but Trump Jr does appear to act on its requests, the Atlantic noted.
In a 3 October 2016 message, WikiLeaks asked Trump Jr to "comment on/push this story" and attached a quote from Clinton about wanting "just drone" WikiLeaks founder Julian Assange.
"Already did that earlier today," Trump Jr responded. "It's amazing what she can get away with."
However, just minutes later, he tweeted: "What's behind this Wednesday leak I keep reading about?"
Over a week later, the WikiLeaks account asked Trump Jr if he and his father could talk about their publications, specifically a link to their archives. Though Trump Jr did not respond to the message, his father tweeted 15 minutes later: "Very little pick-up by the dishonest media of incredible information provided by WikiLeaks. So dishonest! Rigged system!"
Two days later, Trump Jr tweeted the link WikiLeaks gave him, the Atlantic reported.
Soon, WikiLeaks began to make more outlandish request. On 21 October 2016, it asked him to leak his father's tax returns. On Election Day, 8 November 2016, it encouraged him to urge his father to contest the election results if he did not win.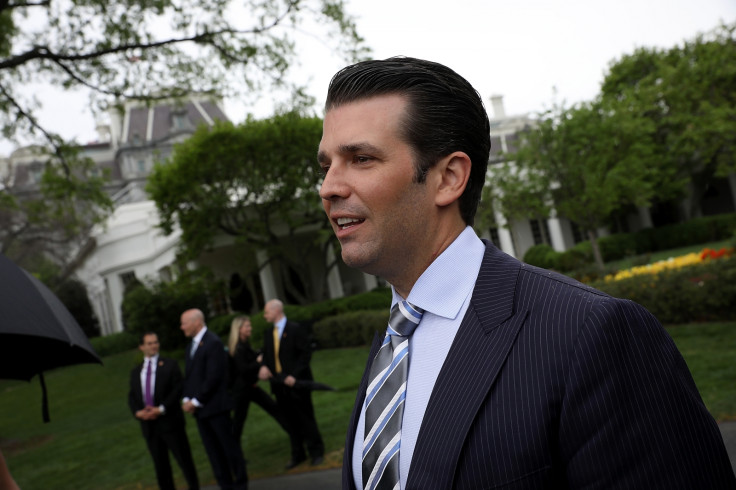 It's most ambitious request came on 16 December. WikiLeaks messaged Trump Jr a request involving its founder, who has lived in the Ecuadorean embassy in London since 2012.
"In relation to Mr Assange: Obama/Clinton placed pressure on Sweden, UK and Australia (his home country) to illicitly go after Mr Assange. It would be real easy and helpful for your dad to suggest that that Australia appoint Assange ambassador to [Washington,] DC," the account wrote.
WikiLeaks acknowledged Australia would not go through with it, but said "it will send the right signals to Australia, UK + Sweden to start following the law and stop bending it to ingratiate themselves with the Clintons".
The correspondence with WikiLeaks is not the first time the younger Trump has found himself embroiled in controversy. In June 2016, he met with Natalia Veselnitskaya, a Russian lawyer, with the hopes of getting information against Clinton from the Russian government.