Donald Trump Jr posts Instagram image of US 'white nationalist mascot' Pepe the Frog
'White supremacist meme' sports Trump-like blond wig in message by candidate's son.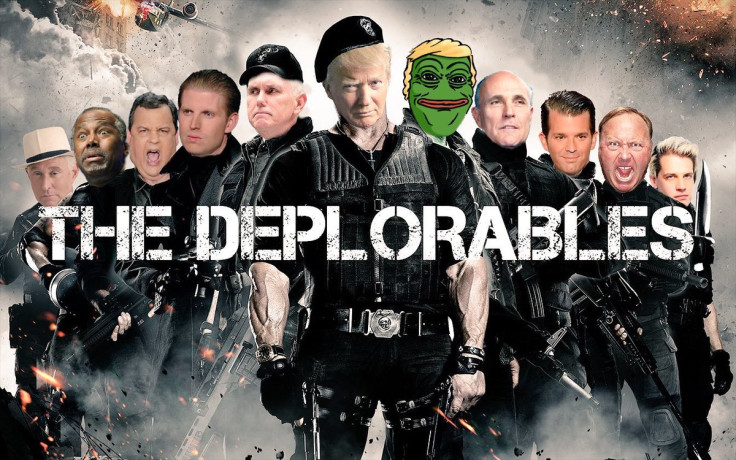 Donald Trump's eldest son has posted a social media message including the bizarre "mascot" of the US white nationalist and alt-right movement Pepe the Frog.
The Instagram post is a criticism of Hillary Clinton for calling half of Trump supporters "deplorables."
It features Trump, his running mate Mike Pence, his two oldest sons and supporters including former New York City Mayor Rudolph Giuliani and alt-right leader Milo Yiannopoulos who has been banned from Twitter for hate speech.
They are presented as action heroes "The Deplorables" in the manner of Sylvester Stallone's ageing group depicted in the film the Expendables.
Standing next to Trump and smiling broadly is Pepe the Frog, wearing a Trump-like blond wig.
It's one of a number of times the campaign has posted a meme linked to the neo-Nazi or alt-right movement in America.
"Pepe the Frog is a huge favourite white supremacist meme," Heidi Beirich, civil rights activist of the Southern Poverty Law Center, told NBC News.
"The white nationalists are gonna love this because they're gonna feel like 'yeah we're in there with Trump, there's Pepe the Frog.'" The meme was also posted by informal Trump adviser and confidante Roger Stone.
The cartoon amphibian Pepe was popularised on the website 4chan, and became associated with the white supremacist and alt-right movements.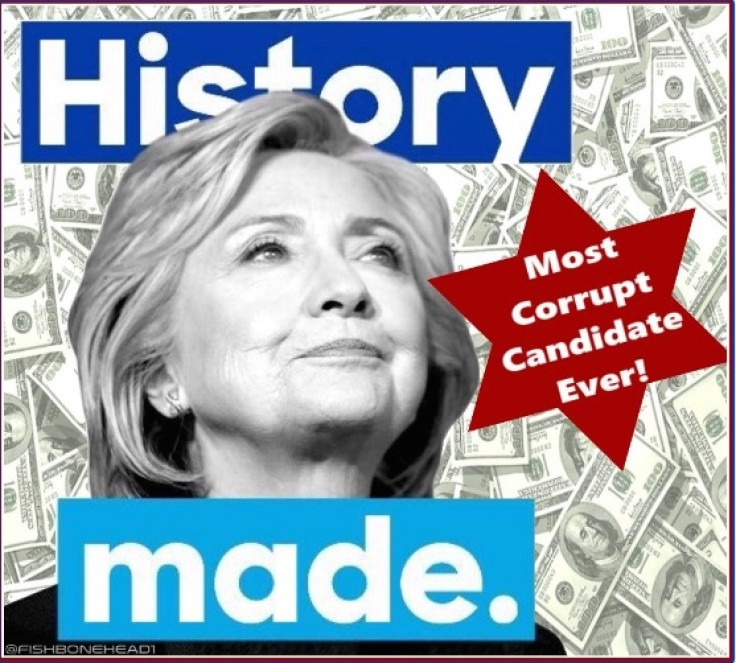 This is the image in Donald Trump's tweet against Hillary that has landed him in hot water — again
Twitter/Donald Trump
In July, the Trump campaign reposted a white supremacy tweet widely viewed as anti-Semitic calling Hillary Clinton corrupt and showing her in front of piles of cash with a six-pointed Star of David. Trump insisted the star was a "sheriff's badge," but the star was quickly changed to a circle.
The Republican presidential candidate has also been highly praised by American neo-Nazis and has been slow to renounce their support.
As for Pepe, Trump spokeswoman Hope Hicks told NBC: "Don Jr, like Mr. Trump, disavows any groups or symbols associated with a message of hate."
Donald Trump Jr wrote in his Instagram post that he was "honoured to be grouped with the hard working men and women of this great nation that have supported" his father.
Clinton said at a recent fundraiser that "half" of Trump supporters were in a "basket of deplorables" that held bigoted views. She later apologised, but stuck to her complaint that Trump was clearly attracting such support.
© Copyright IBTimes 2023. All rights reserved.