Donald Trump Jr tells Dallas Republicans' fundraiser he has zero contact with his father
President's eldest son adds that he misses intensity of being on election campaign trail but wants nothing to do with the politics.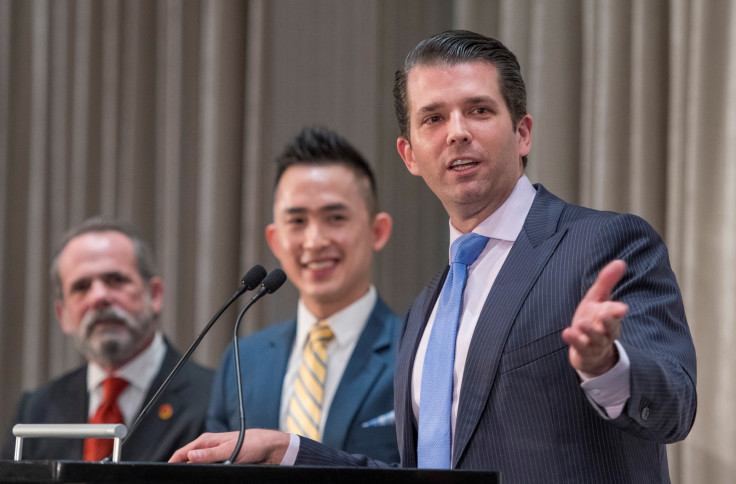 Donald Trump Jr, who is running his father's company with his brother Eric, told an audience at his first public political engagement that he has barely spoken to his father since the presidential inauguration.
The oldest child of the president claimed at the Dallas County Republican Party's Reagan Day Dinner on Saturday (11 March): "I have zero contact with him at this point," according to NBC News.
Trump Jr and his brother Eric took over the family business in January after the president resigned his position. Despite no longer running Trump Organization, the new president has maintained his financial interest in the company, prompting many to question possible conflicts of interests.
Trump Jr also spoke nostalgically about being on the campaign trail with his father and leaving politics behind after the election.
"I thought I was out of politics after election day," hesaid, according to CNN. "I thought I'd be going back to my regular job. I thought I'd be really excited about it. But once you get a little bit of a taste of that action, it's hard to leave."
"Deals are still exciting but when you're the guy out there 24/7 every day fighting in this thing—it's like a great fight, the intensity. I don't miss the politics, I promise. I want nothing to do with the politics but I miss the intensity of that."
Trump Jr went on to praise his father's first 50 days in office.
"What's exciting for me, as an American, as a father of five young kids, is I'm watching more take place in two months than I saw in two terms before," he told the nearly 1,000 Republicans gathered at a downtown hotel.
According to NBC News, within a minute of Trump Jr leaving the state, the MC at the dinner began asking for donations. The group reportedly hoped to raised $25,000.
The president's three adult children took a very active role during his campaign and in the transition. Donald, Eric and Ivanka Trump sat in on meetings with foreign heads of state and remain heavily involved in business deals abroad.
Trump Jr also shared the stage with his father's one-time rival, Senator Ted Cruz of Texas, who joined the president and first lady for a private dinner at the White House on Wednesday (8 March).
"I saw on TV that [Cruz] had had dinner with my father earlier this week," Trump Jr said. "Now, I don't even know if I have to deliver a punchline to that. But it's sort of ironic."
© Copyright IBTimes 2023. All rights reserved.