Donald Trump sells Miss Universe Organization days after buying NBCUniversal stake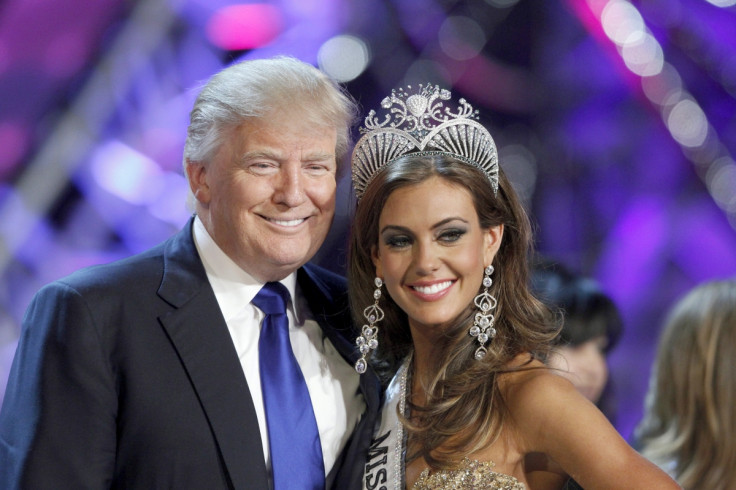 Just three days after buying off the Miss Universe Organization shares owned by NBCUniversal, Republican presidential candidate Donald Trump has sold 100% of his shares to the WME/IMG agency. The grouping of beauty pageants include Miss Universe, Miss USA and Miss Teen USA.
According to the Los Angeles Times, the media agency announced the acquisition on 14 September. The financial terms of the acquisition, however, were not disclosed.
"Having worked closely with The Miss Universe Organization in the past, we understand the incredible potential of the events and the star-quality of the participants," WME/IMG chief of content officer Mark Shapiro said in a statement. "The global reach of The Miss Universe Organization and the content of opportunities presented by the pageants make this a strong, strategic addition to our portfolio."
Trump released his own statement after selling the pageant organisation. "I have truly enjoyed owning the Miss Universe, Miss USA, and Miss Teen USA pageants," he said. "When I purchased the pageant many years ago, they were in serious trouble. It has been a great honour making them so successful and I have really enjoyed watching the pageants grow throughout the USA and worldwide. The pageants are now in the hands of a great company that will shepherd them to even greater levels of success."
The LA Times reported Trump bought out NBCUniversal's stake in the organisation as part of a settlement of his lawsuit against the company. NBC and Spanish-language network Univision refused to air the Miss USA pageant on 12 July after Trump made controversial comments about Mexican immigrants. Trump sued both networks.
According to Business Insider, Trump's financial disclosure forms with the Federal Election Commission revealed that The Miss Universe Organization was valued between $5m (£3.2m) and $25m (£16.2m).
© Copyright IBTimes 2023. All rights reserved.