Donald Trump sexual assault accuser 'will counter sue'
Woman who settled suit with Trump vows legal action after being branded 'liar'.
A woman whose sexual harassment lawsuit against Donald Trump was settled in 1997 says she will counter sue him if he launches legal action against her after the election.
"Only when he called me a liar several months ago did I choose to speak out about the times he groped and sexually assaulted me when I did business with him," said Jill Harth in a statement posted by her lawyer.
"Trump's calling me a liar again yesterday only strengthens my resolve to speak the truth about what he did to me," she continued. "If he sues me, I know that truth is an absolute defense, and I will counter sue for the emotional hurt and lost income his attacks have caused me."
Harth's statement comes a day after the Republican presidential nominee lashed out at nearly a dozen women who have accused him of sexual misconduct in recent weeks.
"Every woman lied when they came forward to hurt my campaign," Trump said at a campaign stop in Gettysburg, Pennsylvania. "The events never happened," he continued, adding "all of these liars will be sued after the election is over."
In early October Harth was the first woman to come forward after an Access Hollywood out-take emerged of Trump speaking off the cuff about groping women.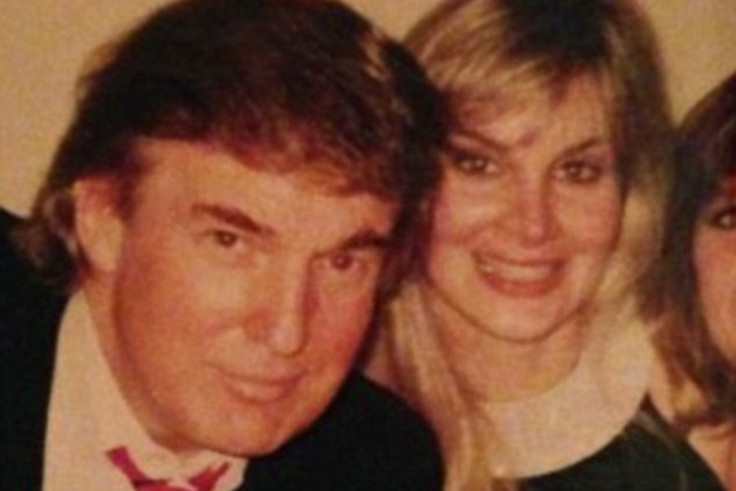 Donald Trump and Jill Harth
Twitter/ @jillharth
Harth's lawyer Lisa Bloom said that in a counter suit she "would take the deposition of Trump and all of his enablers, and subpoena his business and personal records as well as any recordings that may exist in which he brags about sexual assault."
Last Thursday (20 October) a tenth woman accused Trump of groping her. Then at the weekend porn star Jessica Drake shared an account of how Trump kissed her without permission 10 years ago and offered her $10,000 to join him in his suite and on his private jet.
On Sunday Trump accused them all of lying. "A simple phone call placed to the biggest newspapers or television networks gets them wall-to-wall coverage with virtually no fact checking whatsoever," he said.
Since the 2005 Access Hollywood video emerged Trump has repeatedly said that the election is being rigged against him, with the media playing a central role.
"If they can fight somebody like me who has unlimited resources to fight back, just look at what they could do to you, your jobs, your security, your education, your health care." Trump told the Gettysburg audience.
Trump's message is resonating with many Republican voters. Almost 70% say that if Hillary Clinton wins it will be because the vote is rigged, a recent Reuters/Ipsos poll found. Just half would accept the Democrat as president.
© Copyright IBTimes 2023. All rights reserved.