Last Week Tonight's John Oliver has proposed a bet with Donald Trump for which he is willing to give up his Emmy award. The host of the Sunday night talk show on HBO picked on the Republican candidate's comment at the third and last presidential debate in which he spoke about how his show The Apprentice deserved an Emmy.
"I should have gotten it," Trump had interjected when Hillary Clinton spoke about his rigging claims.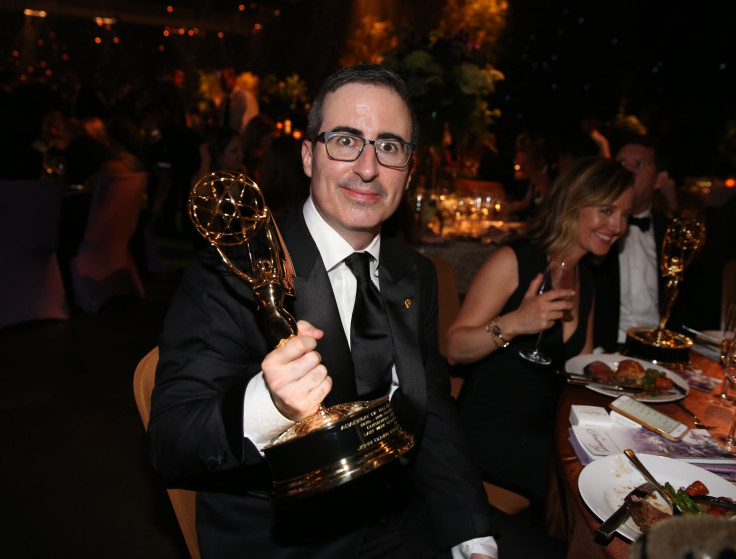 "Of course he wants an Emmy! It's a woman, it's gold, and it's proportionate to his tiny hands," Oliver teased. "It's basically Trump's ideal mate."
So it came as no surprise that the host, who won his first Emmy this year for best variety talk series, offered it up as bait for Trump to accept the 8 November election results if he lost. "Here's the problem. It increasingly seems like, if Donald Trump loses, we are not going to get the concession speech that the country badly needs, because he is medically incapable of accepting that he is a loser," Oliver said. "So we need to find a way for him to give a concession speech, while he's still able to claim that he won something.
"And I think I might have the answer here. Because I have a proposition for Donald Trump," he added.
Addressing his proposal to the candidate, Oliver laid out the challenge. "Let's bet on the outcome of this election," he said. "I will take the side that you win. You will take the side that you lose. That way, if you lose, you still win and, as for the stakes in the bet, I have something that I know you want!"
Oliver then brought out his own trophy before continuing to tempt Trump. "You don't even have to take her furniture shopping," he taunted, urging the New York real estate mogul to take the bet.
Watch Oliver's latest segment on Donald Trump on HBO's online streaming service here.