Donald Trump slams Hillary Clinton for 'playing the women card'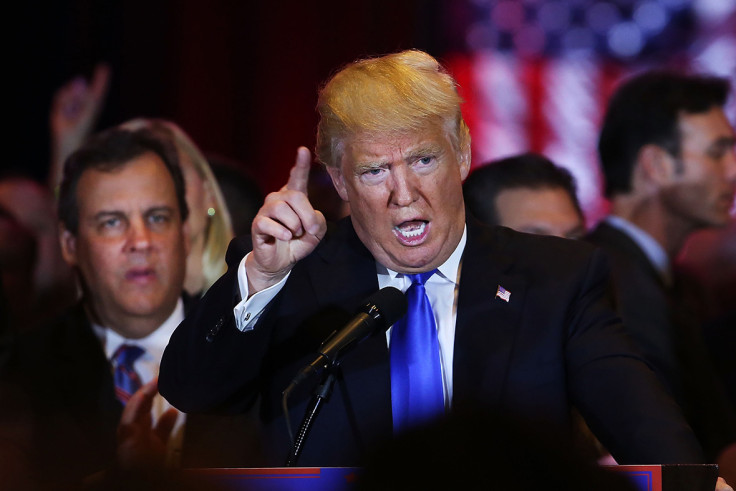 US presidential hopeful Donald Trump has dismissed popular support for Democrat frontrunner Hillary Clinton, stating she only has 'the women's card' and adding 'women don't like her'.
The leading GOP candidate made the comments during his victory speech at Trump Towers after celebrating success in the 26 April Primaries, in which he came top in all five contested states. In Delaware, Rhode Island, Pennsylvania, Connecticut and Maryland the anti-Trump alliance between Ted Cruz and John Kasich took a beating. Even in Pennsylvania, where Cruz was expecting a large evangelical turnout, Trump romped home victorious.
He said: "I think only card she (Clinton) has is the women's card. She has nothing else going. And, frankly, if Hillary Clinton were a man, I don't think she'd get 5% of the vote. The only thing she has going is the woman's card. And the beautiful thing is women don't like her, okay? And look how well I did with women tonight. So, ladies and gentlemen, thank you very much."
Clinton too saw success at Tuesday's elections, winning four out of the five states, only losing Rhode Island to her Democrat rival Bernie Sanders – making a Clinton v Trump contest at the November election increasingly likely.
On hearing Trump's comments, the secretary of state responded by telling voters at a Philadelphia rally: "If fighting for women's healthcare and paid family leave and equal pay is playing the woman card, then deal me in," Bloomberg reported.
Clinton has also announced that there are women on the shortlist to run as her vice-president if she wins the nomination, meaning she could make history not only as a female candidate but on an all-woman ticket.
© Copyright IBTimes 2023. All rights reserved.