It looked like the old Donald Trump primary days when one of his supporters was captured on video slapping and hitting protesters at a campaign rally — and was allowed to stay as the demonstrators were taken out.
The unidentified man is seen in an ABC News video clenching his fist, apparently striking two male protesters in the head and grabbing one of them by the shirt as they are escorted out of the rally in Asheville, North Carolina.
Trump did not respond from the podium to the commotion.
In the past he has encouraged supporters to get rough with protesters, even offering to cover any legal fees that might be incurred.
"If you see somebody getting ready to throw a tomato, knock the crap out of them," Trump said at an Iowa rally during the primary campaign in February. "Seriously. Okay? Just knock the hell — I promise you, I will pay for the legal fees."
Several protesters were attacked, sometimes shoved to the ground and stomped, during the primary rallies.
The rallies have been relatively peaceful for months. The latest confrontation occurred as Trump invited to the stage some of his supporters who are "not deplorable people," the candidate said in a dig at Hillary Clinton's insult that his backers belong in a "basket of deplorables." He called on Clinton to retract her comment.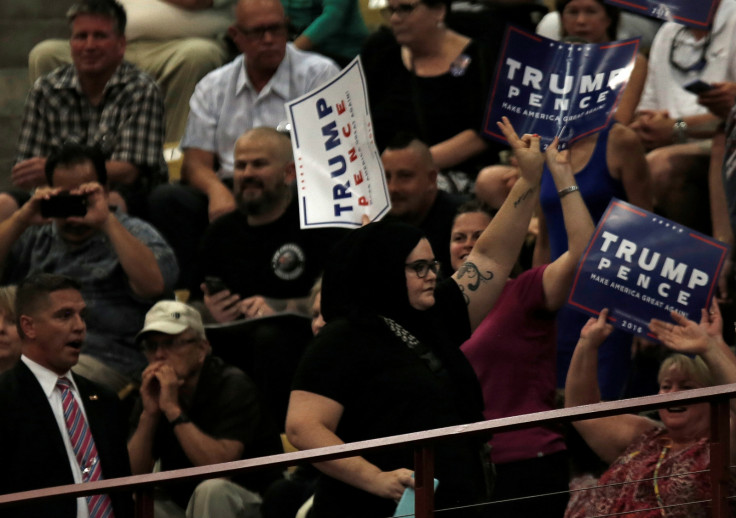 Donald Trump Jr posted an Instagram meme after Clinton's insult that posed the Republican presidential candidate, his two oldest sons and other supporters as heroic "The Deplorables" in the style of the movie heroes "The Expendables." But it included alongside Trump an image of the cartoon Pepe the Frog, in a Trump-like blond hairdo, who has become the mascot of the white nationalist movement.
There was no immediate response to the rally scuffle from the Trump campaign.