The day after Donald Trump's campaign took on the second presidential debate, the GOP nominee's spokeswoman insisted that Trump's threat to jail Hillary Clinton if he becomes President was just a "quip."
But Trump quickly contradicted campaign manager, Kellyanne Conway, by repeating the same threat at a campaign rally the day after the debate (11 October) in Pennsylvania.
"Two boxes of emails and materials are missing," Trump told supporters, according to Politico. "Very, very sad. Special prosecutor, here we come."
During the debate, Trump vowed to appoint a "special prosecutor" to investigate his rival if he wins the presidency in an attempt to send Clinton to jail.
"I'll tell you what. I didn't think I'd say this, but I'm going to say it, and I hate to say it. But if I win, I am going to instruct my attorney general to get a special prosecutor to look into your situation, because there has never been so many lies, so much deception," Trump threatened. "There has never been anything like it, and we're going to have a special prosecutor."
"It's just awfully good that someone with the temperament of Donald Trump is not in charge of the law in our country," Clinton said in her response.
"Because you'd be in jail," Trump shot back.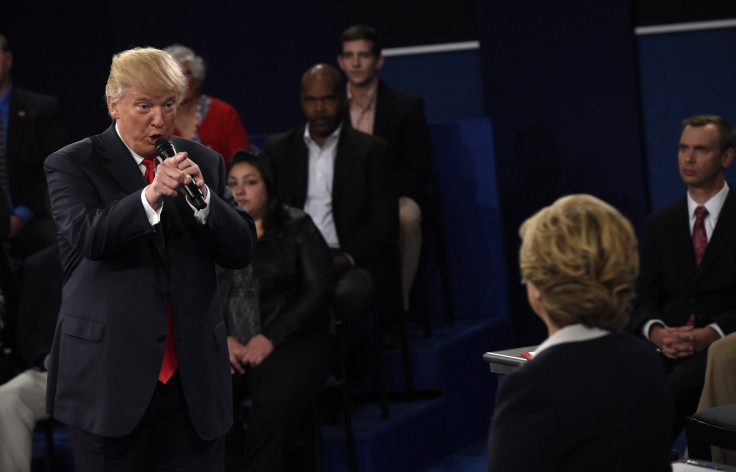 "That was a quip," Conway argued during an interview on MSNBC, the morning after the debate.
She insisted Trump was simply "channelling" voter frustration about the emails that Clinton kept on a private server when she served as Secretary of State.
Following an FBI investigation into the emails earlier this year, officials determined that Clinton's actions were "careless," but not criminal.
Trump's threat to name a special prosecutor was one of the most controversial of his debate points. It evoked images of despotic regimes when new leaders lock up the opposition. CNN noted other leaders who jail rivals or dissenters when they ascend to power, naming Russian President Vladimir Putin and former Chile dictator Augusto Pinochet.
The surprise at Trump's threat was shared by both leading Democrats and Republicans. President George W Bush's press secretary Ari Fleisher tweeted that "winning candidates don't threaten to put opponents in jail."
A number of experts interviewed by the press said Trump would not have that power in any case.
"Under the laws and Justice Department regulations governing federal prosecution, a President Trump would not have legal authority to direct the Attorney General to appoint a special prosecutor to 'look into' Hillary Clinton's email situation or the Clinton Foundation or anything else," Laurence Tribe, professor of constitutional law at Harvard Law School, told Fortune magazine.
"The only precedents for the kind of vow Trump made are to be found in dictatorships and banana republics, not the United States."
Battle for Orlando: Who is voting for Donald Trump and Hillary Clinton in the key swing state of Florida? from International Business Times on Vimeo.