Donald Trump's travel ban prompts Canada's Girl Guides to cancel US trips
Group for girls cancels trip to California over worries its members won't be able to enter.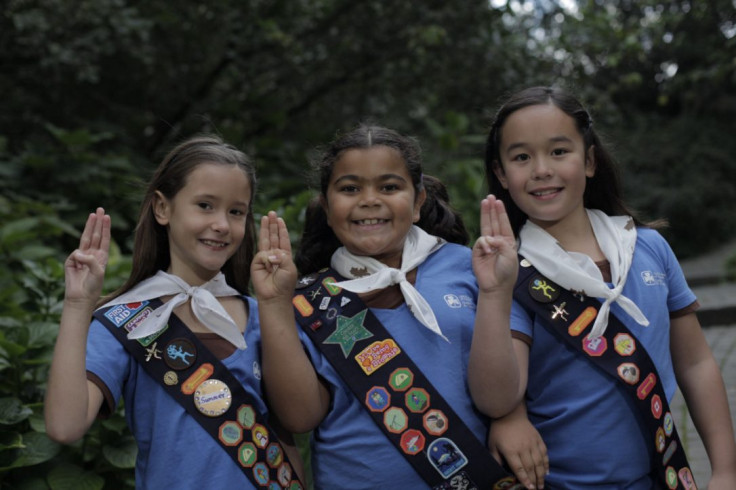 Canada's Girl Guides have put a stop to all trips to the United States following a series of incidents where Canadians were turned away from the US border.
"While the United States is a frequent destination for Guiding trips, the ability of all our members to equally enter this country is currently uncertain," reads a statement from the group's international commissioner Sharron Callahan issued on Monday (13 March).
"We want to make sure that if our girls are travelling that they are not going to be in a risky or unsafe situation. . . . We can't leave a girl behind," explained the organisation's national manager of marketing and communication Sarah Kiriliuk.
The group offers camping trips and activities for girls and young women from ages five to 17. The Girl Guides of Canada has roughly 90,000 members, according to a 2011 report. The Girl Guides are well known for their annual fundraising cookie drive.
Canadians have been turned away from entering the United States due to their ethnic background since late January when the Trump administration introduced a travel ban on people from a handful of majority-Muslim nations entering the US.
The original ban was struck down in a federal court, but it was reintroduced last week to focus on just six nations instead of seven. Blocking travellers and refugees from Iran, Libya, Somalia, Sudan, Syria and Yemen from entering the US for 90 days, the new ban continues to face legal action.
In early February a local public school board in the city of Windsor, just opposite the border from Detroit in southern Canada, announced it was cancelling all student field trips to the United States because the political climate is "unsafe" and it's unclear whether all students would be allowed to cross. There are two cases of Canadian citizens of Moroccan heritage being turned away at the border among others.
In light of all this the Girl Guides made the decision on Monday to cancel their nationally-sponsored trip this summer to a camp in California. Trips for the guides that include connecting flights through American airports have also been dropped.
"This was a very difficult decision to make," said the Girl Guides of Canada statement. "We hope that members will appreciate this reflects our commitment to inclusivity and equal opportunities for all girls and women."
© Copyright IBTimes 2023. All rights reserved.