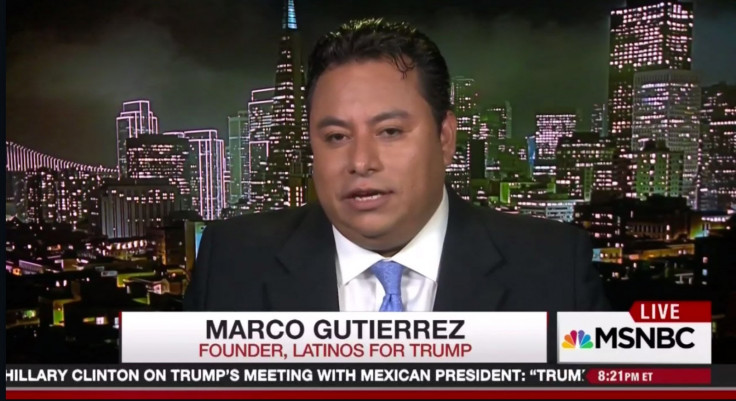 The most powerful slogan against Donald Trump just now in the US is a call for "taco trucks on every corner", a sneer at his fear of the country being overrun by Mexican immigrants.
The movement burning up the Twitter-verse with its immediately top-trending hashtag #TacoTrucksOnEveryCorner began with a comment by one of Trump's few Latino supporters.
Marco Gutierrez, a Mexican immigrant and the founder of a group called Latinos for Trump, warned MSNBC in all seriousness that unless Trump is elected president and builds a wall to keep out Mexicans, the US will be inundated with .... tacos.
"My culture is a very dominant culture. And it's imposing, and it's causing problems," emphasised Gutierrez. "If you don't do something about it, you're going to have taco trucks on every corner."
Tweeters across the nation could not have been handed a better line. It gave them the opportunity to strut their most biting, most hilarious reposts — and share their love of Mexican food.
One tweet has colourful taco trucks leaping Trump's promised Mexico-US border wall, Evel Knievel style. Another has Vice President Joe Biden imagining a food truck on every corner, and gushing: "That's lit!"
The Washington Post estimated that a taco truck on every corner would create 63 million new jobs.
Arizona Democratic Congressman Ruben Gallego posted a photo to his personal Twitter account of him ordering three carne asada tacos from his favorite taco truck. It was captioned with the tweet: "About to assert my cultural dominance."
Many observers didn't find the comment by Gutierrez quite as hilariously vacuous as others did. Several thought it was a calculated dig to tap into old attacks.
"You'd call people beaners, greasers, you'd talk about 'Montezuma's revenge'. And even with taco trucks, you'd call them roach coaches ... this idea that somehow Mexican food is not healthy for you, and even poisonous," said OC Weekly editor and taco expert Gustavo Arellano referring to long-time racist insults.
But that attitude won't play well now, he added. "We're now of a generation where almost everyone has grown up eating Mexican food of some sort or other, whether it's breakfast tacos, breakfast burritos, or big huge combo platters," he said. "So to try to say that more Mexicans means more Mexican food, if anything, that's the one thing all Americans like. You may not like the Mexican, but you sure love Mexican food."
There were no immediate comments on the Twitter movement from Trump's campaign staff. Perhaps they were getting a bite to eat ... on the corner.