Britain's Brexit team will be paying close attention to European Council President Donald Tusk as he prepares to set out the European Union's (EU) approach to negotiating the UK's "orderly withdrawal" from the bloc.
Draft guidelines are expected to be sent to the governments of the 27 Member States on Friday (31 March). They will then be amended and approved at a summit on 29 April.
Earlier this week, Theresa May's Article 50 notification letter was handed to Tusk in Brussels, setting a two-year clock on Brexit talks with the EU in motion.
In her letter, the prime minister expressed her belief that "it is necessary to agree the terms of our future partnership alongside those of our withdrawal from the EU." However, her proposal for simultaneous divorce and trade talks suffered an almost instant setback after German Chancellor Angela Merkel insisted they cannot run in parallel.
"The negotiations must first clarify how we will disentangle our interlinked relationship," the chancellor said in Berlin – a stance backed by French President Francois Hollande.
Tusk's negotiating guidelines are likely to back Merkel and Hollande's position on striking a deal on departure first – with Britain's €60bn (£51bn, $64bn) divorce bill covering its outstanding obligations likely to be high on the agenda.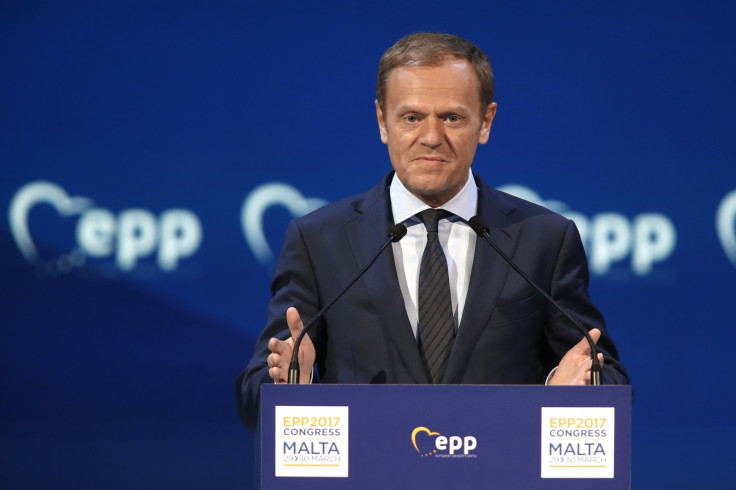 May has been accused of attempting to "blackmail" the bloc after she warned that no agreement would weaken efforts to fight crime and terrorism. "In security terms, a failure to reach agreement would mean our cooperation in the fight against crime and terrorism would be weakened," she wrote in her notification letter.
Brexit Secretary David Davis rejected the blackmail accusation and insisted the prime minister is not using security as a "bargaining chip".
Tusk responded on Thursday (30 March) by warning May that dividing tactics will not work. "Brexit has made us, the community of 27, more determined and more united than before. I am fully confident of this," he said.
A key issue to resolve for both sides will be residence rights of around a million British expatriates in the EU and three million EU expatriates in Britain. Earlier this week, the EU's chief Brexit negotiator, Michel Barnier, said it is possible to reach an agreement in principle on citizens' rights by the end of the year, according to Politico.
Tusk is currently in Malta where he is attending a meeting of EU centre right leaders. He will then give a press conference later in the day from the country.