David Cameron has been dealt an extraordinary blow with the defection of Clacton MP Douglas Carswell to Ukip, sparking what will be a bitter by-election fight and amid claims the prime minister is misleading the public over his pledge for an in-out EU referendum.
The decision will spark panic in Tory ranks amid fears they might not only lose the by-election and hand Ukip its first MP, but that there may be more defections to follow.
And there has been immediate speculation that the prime minister is under intense new pressure to harden his line against the EU and declare he would be ready to lead the UK out of the Union.
David Cameron branded the move "deeply regrettable and counter productive", insisting: "If you want a referendum on Britain's future in the EU, the only way to get that is to have a Conservative government after the next election. And that is what until very recently Douglas Carswell himself was saying."
But Carswell's decision is clear evidence that the prime minister's numerous attempts to appease his right-wing, Eurosceptic "irreconcilables" have failed.
Carswell's Ukip sympathies have been well known in Westminster for years and there have been repeated suggestions he and other right-wing Eurosceptic Tories might jump ship.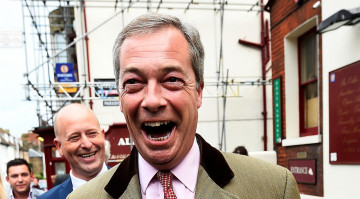 But until the MP's bombshell announcement there had been no signs that any of the obvious candidates were seriously considering such a move, but Carswell has hinted there may well now be others.
It is hard to overstate the potential damage to Cameron with this announcement, which took the Tories and the rest of Westminster by surprise. The first thing Cameron knew about the decision was when he saw the press conference on TV.
If Carswell is indeed followed by other defections – and there has been talk of around a dozen Tory MPs talking to Farage - it could be fatal for the Tories' election hopes.
Tory spokesmen have stressed that the decision is "counter-productive" and point out that Ukip has no chance of winning the general election so any victories for Farage's candidates would only aid a Labour victory and stop the only party promising a referendum from gaining power.
But this shock move obviously represents a major coup for Nigel Farage who has already claimed there are a number of MPs sympathetic to Ukip who may be ready to join him.
Carswell's description of Cameron running a "clique" will strike a chord with many Conservative MPs, even loyalists, who have repeatedly complained the prime minister listened only to a small band of like-minded individuals from the same privileged background.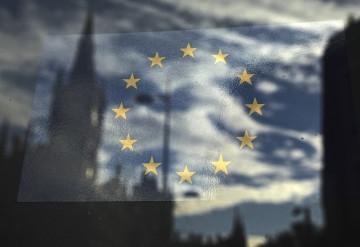 But it is his declaration that he had lost faith in the prime minister and believes his pledge to hold and in-out EU referendum is, in effect, not worth the paper it is written on that will cause the greatest despair in Downing Street.
He said the prime minister's promised re-negotiation was merely a cover to allow Cameron to spuriously claim he had won the reforms he wanted and then lead the "in" campaign as he always intended to do.
That is exactly what most observers also believe, but there had been some speculation recently that the prime minister might be planning to announce he was quite ready to lead the "out" campaign if necessary.
So Carswell's remarks not only undermine that suggestion but send a distinct message to voters that they cannot trust the prime minister to protect their interests in Europe.
It is the clearest possible indication that all the prime minister's concessions to his Eurosceptic MPs have had no practical effect. The group, branded the "irreconcilables", includes MPs who have long put withdrawal from the EU as their top priority, even if that risked undermining the government and general election prospects.
And it is dramatic evidence that any hopes the Farage bandwagon had stalled were misplaced and that Ukip will be back at centre stage from now until general election day.
The only tiny glimmer of optimism for Cameron is that at least Carswell will no longer be causing him trouble from the backbenches. And he will hope to stage a decisive victory in the by-election in an attempt to damage Ukip's general election prospects. But these are straws.
If Carswell, who has a 12,000 majority, pulls off a by-election sensation it will pitch the Tories into the sort of "headless chicken mode" that they managed to avoid when Ukip won the European elections earlier this summer.
Losing in the European parliament is one thing, losing a by-election just months before a general election is of a whole different order.