Ukip leader Nigel Farage has been selected by his party to contest the seat of South Thanet, Kent in the 2015 General Election.
Local MEP Farage was one of four nominees for the candidacy, but his selection at a branch meeting in Ramsgate came as no surprise. By far Ukip's most recognisable figure, South Thanet is arguably tailor-made for his brand of populist politics.
Despite the regularity with which Ukip members have been exposed as racist, sexist or just plain barmy, Farage seems untouchable; a likeable character always ready with a quip or a sound-bite, and a man with whom the media seem fixated - rather like Boris Johnson, who today announced he will contest the safe Tory seat of Uxbridge and South Ruislip in 2015.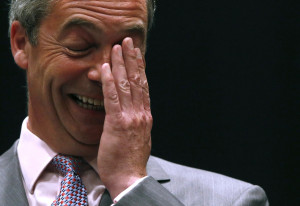 Speaking at Ramsgate harbour, Kent-born Farage showed local knowledge and implied he could turn the area's fortunes around. "You see a place with an amazing heritage in history, and people are rightly proud of where it is and what it is. And yet it feels like the end of the line, that something has gone wrong. The mining has gone and manufacturing, Pfizer, has gone."
Farage stood in the same constituency in 2005, finishing fourth with just 5% of the vote, but will be hoping for a much better result this time. Recent gains for Ukip in the local elections coupled with a broad disillusionment with Westminster and a popular feeling that most politicians don't understand ordinary people all put wind in the party's sails.
"I said three years ago we'd win the European elections," says Farage. "Everybody thought I was stone bonkers and we did it. I am telling you today we will win seats in Parliament next year. If we don't I will have failed as leader and I won't be here."
Farage will be up against Craig MacKinlay, who was temporary leader of Ukip in 1997. In 2005 he switched to the Conservatives and became a Medway councillor. The current Conservative MP, Laura Sandys, who won the seat in 2010 with a majority of 7,617, is standing down due to family demands.