Douma air strike: 80 people dead in attack by Syria's military on rebel-held town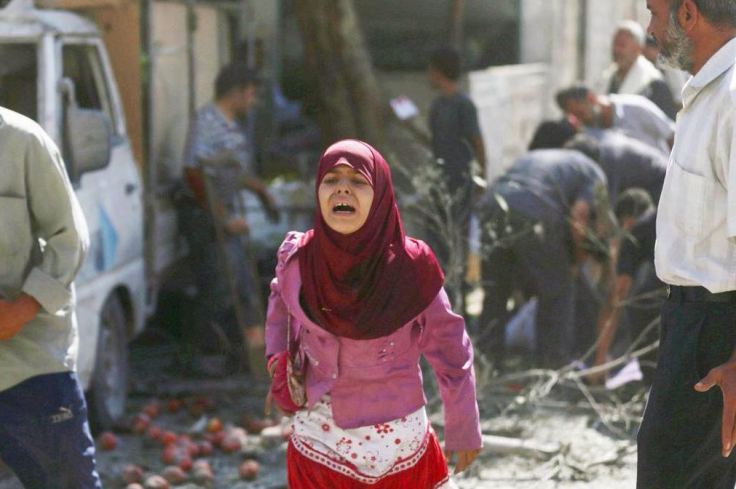 More than 80 people have been killed and hundreds more injured following a series of air raids in the market town of Douma, in Syria. The strikes were carried out by the Syrian military today, 16 August, on the opposition-held town which is seven miles from the capital, Damascus.
At least 200 people have been injured in the attacks. The death toll continues to rise as many of the wounded are in serious condition, according to the Syrian Observatory for Human Rights.
"The regime carried out four air strikes against a market in the centre of Douma," said Rami Abdel Rahman, director of the UK-based organisation. "The preliminary information suggests most of the dead are civilians," he added.
A video posted by activists on Twitter shows footage of the wreckage following the strike. Rubble and twisted metal lay strew along the intersection, as emergency services help the injured. The air is thick with dust as silhouettes of wounded people come out of the debris to seek help.
Significant damage seems to have been caused to buildings and several vehicles lay overturned. A Douma-based activist known as Mazen al-Shami said that the situation is "catastrophic" and that hundreds of people were in the main market when the first missile struck, according to AP reports.
Emergency services are overwhelmed and many of the clinics are full, with people being rushed to medical facilities in civilian cars, al-Shami added. Mosque loudspeakers are issuing appeals for people to donate all types of blood.
The rebel-controlled town of Douma has been the focus of regular air raids and helicopter barrel bomb attacks in recent months by Syrian government forces. The civil war in Syria is now in its fifth year and has now claimed the lives of more than 250,000 people and injured at least one million.
© Copyright IBTimes 2023. All rights reserved.