Hit British drama Downton Abbey will soon return to our screens for its fifth series.
The fourth series ended with Lady Edith secretly giving birth to an illegitimate daughter, Lady Mary torn between two suitors and Anna Bates trying to cope up after being sexually assault by Mr Green.
Lady Mary had a tough time for the most of the last series but the new episodes will bring out her lighter side.
Also, she will be torn between her two suitors, Lord Blake (Julian Ovenden) and Lord Gillingham (Tom Cullen). Who will she choose?
Executive producer Gareth Neame told TVline: "She's still not quite sure and I think that's a good hook for the audience in the fifth season to see which decision she's going to make."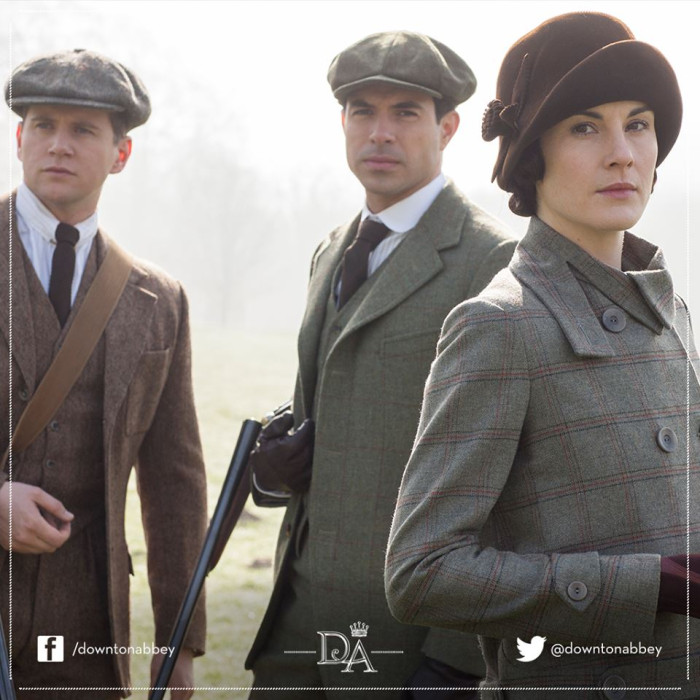 Series five will open with Lady Edith visiting her child who she has given to a farmer on the estate.
She will be emotional on seeing her little girl and will find it difficult to watch her from afar. But she decided to give up her motherly desires to protect her daughter from the social stigma.
"Times are changing" and the new series begins in 1924, bringing in a new dawn of Labour government. Lord Grantham (Hugh Bonneville) and Carson (Jim Carter) are not too fond of the big changes that have come so far.
At a Q&A session, Neame said: "The series has always been about the dying of the light, the end of this era. Slowly we've seen this decline, so it was inevitable that we would use this first socialist government."
Anna Bates (Joanne Froggatt) and Mr Bates (Brendan Coyle) will deal with the aftermath of her rape by Green (Nigel Harman). But her pain will heal, judging by a tender moment where the couple talks about having children.
However, Froggatt said: "They are keeping secrets from each other. In her heart of hearts, she doesn't believe Mr Bates has [killed Green] but she has this doubt."
The first episode, which features cameos from a host of top stars including Richard E Grant and Sue Johnston, hinted the upcoming series will be one of love in Downton.
Recently, a promotional image for the period drama, featuring a plastic water bottle on a mantlepiece, went viral.
The show's cast realised the error and posed with water bottles to promote the work of WaterAid.
Downton Abbey embrace 'water bottle-gate' to promote work of international charity WaterAid. http://t.co/Srf1Fl4ri5 pic.twitter.com/dNUwmN27ct

— ITV Press Centre (@itvpresscentre) August 16, 2014
An ITV spokesperson told Digital Spy: "After seeing the reaction the picture caused earlier this week, the cast and crew came up with the idea of turning some of this attention towards an issue around water that really matters.
"They hope that by posing for this picture they will be able to raise awareness and amplify the work of international charity WaterAid."
A Downton Abbey spokesperson added: "It's testament to the huge success of Downton that something like this makes headlines around the world."