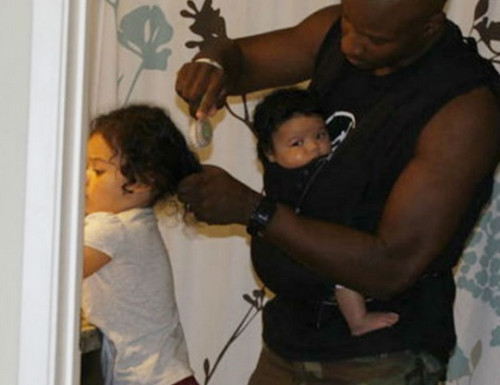 A stay-at-home dad has provoked debate after posting an image online showing him caring for his children.
Doyin Richards, a Los Angeles-based blogger, became an overnight sensation after a photo he took in the bathroom with his little girls went viral.
In the image he can be seen doing one daughter's hair while holding the other in a baby carrier.
According to Richards, he took the photo to show off his multi-tasking skills to his doubting wife.
"One morning last week, MDW [Mommy Doin' Work] was running late for work and was worried that she wouldn't be able to get DDW1′s hair done before I had to take her to school. I told her that she could leave and I'd handle it," he explained in a post on his blog Daddy Doin' Work.
"During the process, I thought, 'There's no way my wife will believe me if I don't take a picture of this.' That's when I set my camera up, put it on a 10-second timer, and took the photo you're looking at right now.
"After 15 minutes of multitasking, the final result was a nice, tight ponytail for big sister and a happily sleeping baby in the carrier. Mission accomplished. I emailed the photo to her with the caption "Boom." and we both got a good laugh out of it."
Richards was soon bombarded with both positive and negative messages from the online community.
While some commended him for being an hands-on father, some readers accused him of being lazy and advised him to stop taking pride in staying at home.
One critic said:"Ok buddy, cute picture. Now why don't you hand the children back to the mom and go back to selling drugs or your bootleg rap cds."
Richards says the negativity is simply a reflection of the poor state of our families.
"It's not a good look to tear down dads for doing the work your wives wished you were man enough to do on your own. If you don't believe me, just ask your spouses. They'll tell you," he said.
"But don't worry. I'll still be here whenever you're ready to step your game up and join #TeamGrownAssMan."