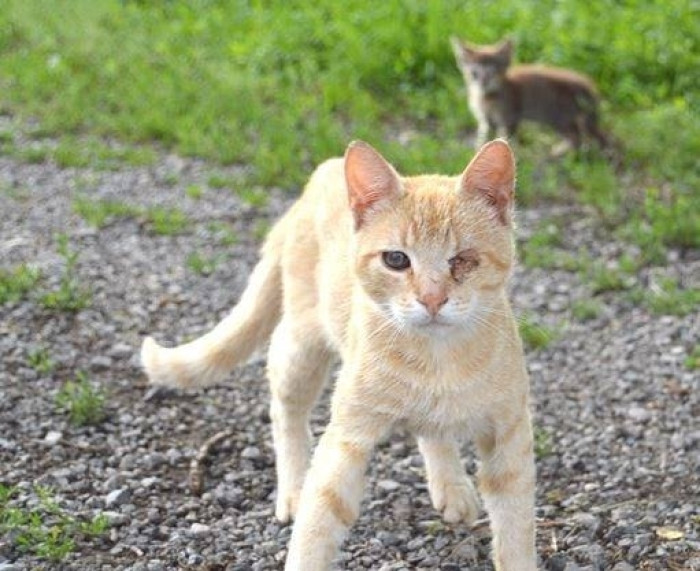 Dozens of cats have been discovered living alongside more than 150 dead cats, dogs and other animals in an abandoned home in Ontario, Canada.
Animal welfare organisations have rescued around 100 cats from the property in Beamsville so far. More than 153 dead cats and four dead dogs were found in and around the home.
Pam Huson, who runs Beamsville 4Paw Rescue, said the dead cats were found near doors and windows in the home and were covered in scratch marks. Animals were also found in rain barrels on the property.
"The stench was so awful that we were throwing up," she told the Canadian Press.
"We followed the flies and the maggots and the birds and the stench and that led us to the barrels. It was shocking."
Animals thought to be roadkill were also found on the property. "It was a nightmare," Huson said.
The surviving cats have overrun the home, but are now being rescued, treated for illness and injury and being re-homed by different animal welfare groups.
The Ontario Society for the Prevention of Cruelty to Animals (OSPCA) has said it is in the middle of an investigation into animal cruelty.
Alison Cross, a spokesperson for the group, said it was likely that a "hoarding situation" had led to the huge numbers of dead and alive animals on the property.
"We were there, feeding animals, going back daily, addressing any concerns of animals that might have been appearing — they are roaming outside, so it's not easy to find them all," she added.
The OSPCA has been working with a woman who they said used to rent the home on the site.