A New York City subway train derailed in Harlem on Tuesday (27 June), injuring 34 passengers and forcing hundreds of people to evacuate from trains along the subway line.
Two cars in the Brooklyn-bound A train careened off the tracks after the emergency brake was activated. The train cars crashed into a wall near the 125th St station in northern Manhattan, newly-minted Metropolitan Transportation Authority (MTA) chief Joseph Lhota said.
"The train was peeled open like a can opener," Paul Navarro, track division chairman for the Transport Workers Union, told the New York Daily News after visiting the accident site.
Fire Commissioner Daniel Nigro told the New York Times that 34 people were treated for minor injuries, including smoke inhalation. Seventeen of those were taken to nearby hospitals.
According to the Daily News, panicked passengers aboard the A train and a trailing D train broke windows in their subway cars and climbed out to the tracks. Nigro said that approximately 800 people were in the tunnel following the incident and that it took more than an hour to evacuate them all.
Kelly Kopp, a 48-year-old photographer aboard the A train, told the Daily News he heard what sounded like a "huge explosion" before his train came to a sudden halt. "It was enough to scare the heck out of us and for me to think I could die in this train," Kopp said.
"As soon as the train stopped, people started screaming. And that was really terrifying because I thought some fire was going to start shooting through the train," he added. "And then people were throwing up, too, from the smoke."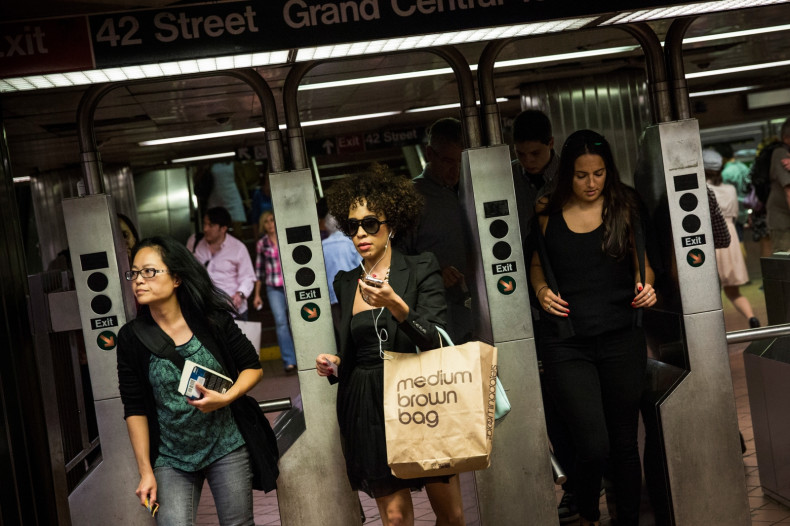 Lhota, who is just five days into his post, told reporters that investigators are working to determine the cause of the derailment. "This does not look like a failure on the part of the equipment," he said. "The brakes went into emergency and we need to determine why."
According to the Daily News, the incident severely disrupted service during the morning rush-hour. Service along the B and C lines were knocked out, as well as large portions of the A and D lines. Lhota and Ronnie Hakim, the MTA's acting executive director, said they were unsure when service would be fully restored.
Lhota said the derailed train still had to be removed in order to establish the extent of the track damage.
Navarro, meanwhile, said the derailment caused "extensive damage" to the tracks and other equipment. About 200 feet of track and multiple signals were damaged and mounds of concrete were smashed from the walls, the Times reported. Navarro added that a piece of the train car door hit the electrified third rail, which was dislodged.