Forces loyal to Libya's UN-backed government have reportedly suffered heavy casualties as they advance in their final battle against Islamic State (Isis) militants in Sirte.
After almost a week of respite, clashes resumed on Sunday (28 August), in which at least 34 fighters were killed and 180 others wounded, media reports cited hospital sources as saying.
As part of the push to close in on the last holdout of the militants, several brigades, mostly from the neighbourhood city of Misrata, entered the areas held by the IS in Sirte.
The soldiers who were stationed near Sirte's seafront advanced a few hundred metres towards the east of the city. Some forces were reported to have stormed areas south of Sirte where the IS militants were hiding and engaged in a "street-to-street fighting", Reuters reported.
Libyan forces reportedly used heavy weapons, including tanks, rocket-propelled grenades and anti-aircraft guns against the Islamic group.
According to some Misrata-led government soldiers, the militants set off five car bombs in an attempt to block the forces from advancing further.
The US-backed Libyan forces also reportedly carried out air strikes and mortar bombardment of districts in the north of the coastal city.
The front-line soldiers were reported to have paused their advancement for a week in a bid to let the militant group's families flee from the battle zone.
The Libyan government has said it is close to retaking the entire city of Sirte from the militants. Since the start of August, and as of 18 August, the three-month-old campaign has seen the US launching 65 air strikes in Sirte, leaving the militants confined to a smaller area in the city centre.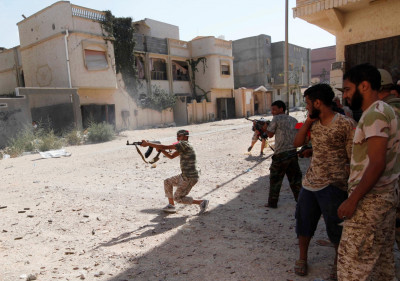 The offensive for Sirte began in May but the advances by Libyan forces were slowed down due to major casualties. The brigades were reported to have struggled to defend themselves against landmines, snipers and suicide bombings by the IS militants.
The Mediterranean city was seized by the militant group in February 2015 and since then an estimated 80,000 residents were said to have fled Sirte.
The UN feared that some of the militants who escaped from Sirte could relocate to other African nations.