A convoy of tanks and other US military vehicles is driving through eastern European countries that border Russia and Ukraine. The mission aims to reassure a region concerned that the conflict between Russian-backed rebels and government forces in Ukraine could spill over into neighbouring countries.
Dozens of Stryker and other armoured vehicles from the 3rd Squadron of the 2nd Cavalry Regiment, with support from US Air Force Black Hawk and Chinook helicopters, took part in the exercise to show Nato's readiness to defend its members.
The Dragoon Ride convoy started in Estonia and has passed through Latvia, Lithuania and Poland before entering the Czech Republic. The convoy will then head back to its to base in Vilseck, southern Germany.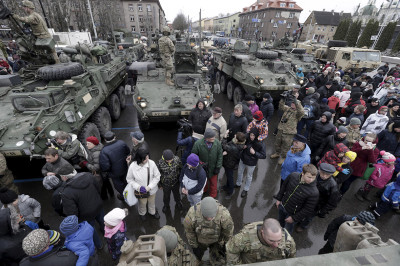 Poland borders Ukraine and Russia, and the conflict in eastern Ukraine has caused anxiety here. Poland says it has trust in Nato's collective security guarantees but it also harbours bad memories of defence alliances with Britain and France that failed when Nazi Germany invaded in 1939.
The mission plans stops in local communities in each country over the 10-day period.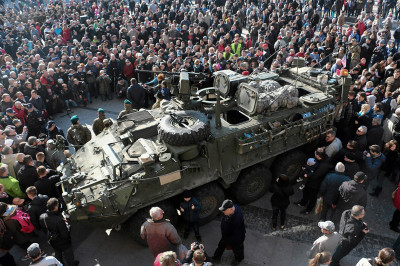 The convoy of US troops driving through eastern Europe was given a warm welcome as it entered the Czech Republic.
In a campaign on Facebook and pro-Russia media, activists had condemned the convoy, pledging to stop it. But opponents were clearly outnumbered by those who came to welcome the troops.