A salmon fisherman who had to jump into the water along with other passengers to save his life is now suing a motorboat driver after his vessel crashed into his.
The incident that happened in August 2017 was captured on a GoPro camera, which shows Bryan Maess diving into the water seconds before the 31-feet motorboat of Marlin Lee Larsen hit his ship. The footage can be seen on the Salmon Trout Steelheader Magazine's Facebook page.
The terrifying episode took place on 12 August near the mouth of the Columbia River, Oregon, and the Pacific Ocean, which showed the 47-year-old along with Christopher McMahon and Roni Durham leaping into the frigid waters.
In his $372,500 (£269,399) lawsuit filed in Clatsop County Circuit Court, Maess has accused the 75-year-old of accident due to negligence and has asked for a compensation as he claimed he suffered vision problems in the incident and is still wearing a knee brace six months after it, the Daily Mail reported.
Clatsop County sheriff's deputies charged Larsen with reckless operation, three counts of reckless endangerment and three counts of fourth-degree assault. But refused involvement of drugs or alcohol in the crash.
Larsen has refuted all the allegations, saying he was not able to see the coming boat as he was sitting down and the dash of his boat was obstructing him to see forward. But one of his passengers, who also happened to be his son-in-law, alleged that the accident happened because Larsen was using his cell phone while driving.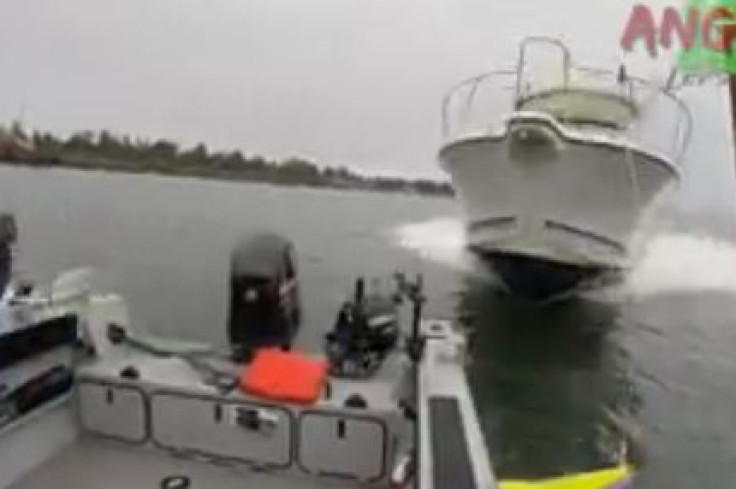 The old man has rebutted his son-in-law's allegation also, and told Oregon Live that these claims are "fake news".
Meanwhile, it was reported that McMahon and Durham, who also suffered injuries in the accident, have hired their own attorneys and are willing to file their lawsuits. Durham's lawyer, Josh Lamborn, said his client has suffered psychological trauma and hasn't been able to go back out on a boat since the crash.