Democratic Republic of Congo (DRC)'s crackdown on media has gone into overdrive after two radio stations were taken off air and two representatives of a third one were arrested for broadcasting an interview with a member of the opposition.
Activists and rights groups have been urging global powers, including the US and EU, to use strong financial pressure to ensure President Joseph Kabila steps down at the end of his second mandate on 19 December, as stated in the Constitution, and end repression against dissenting voices.
Over the past 18 months, the Congolese security forces have been accused of arresting members of the opposition, illegally jailing notable pro-democracy activists, and of violently suppressing political protests to avoid scheduling national elections.
Two media outlets, French public radio Radio France Internationale (RFI) and United Nations Radio Okapi, have been off air since their radio signals were interrupted on Friday (4 September) evening and Saturday, respectively.
Two journalists from the Radio-Télévision Manika de Kolwezi were arrested Monday morning after broadcasting a phone interview with opposition leader Moise Katumbi. They are the radio's general director, Gaston Mushid, and programme director Carton Kasong, the press advocacy NGO Journaliste en danger (JED ) said. A security source confirmed their detention to AFP.
Radios' 'enforced silence' is 'not acceptable'
The United Nations (UN) High Commissioner for human rights in DRC condemned the measure on Twitter , saying: "Cutting RFI [and] Okapi signals [is] contrary to article 19 universal declaration human rights freedom of expression right to information". In another tweet, the organisation said it was "very concerned by continuous attacks against media [and] journalists in the DRC [and] calls for respect of freedom of press".
Michaëlle Jean, the secretary general of the International Organisation of La Francophonie, which represents French-speaking countries, described the Congolese government's decision to disrupt the radios' signals and "enforc[ing] silence" as "not acceptable". In an interview with AFP, Jean urged the Congolese authorities to reconsider the measure "in the name of freedom of expression and the press".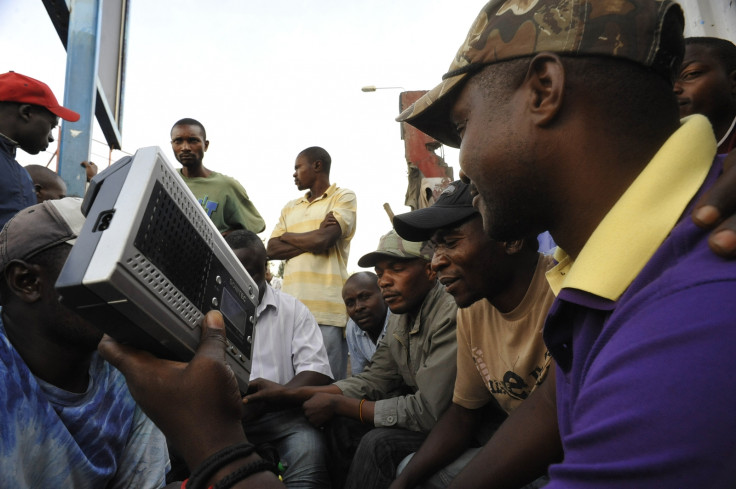 The signal of RFI, one of the most popular stations that has often been cut during days of protests against Kabila, was shut down when the opposition, led by political heavyweight Etienne Tshisekedi, was planning to hold a public rally on Saturday. The prohibited rally was intended to remind Kabila his second term ends on 20 December, as outlined by the Constitution.
It is still possible to listen to RFI in Kinshasa on the frequency of Brazzaville, the capital of neighbouring Republic of the Congo.
Regional analysts have credited Radio Okapi "with easing tensions, counteracting propaganda, and helping people in eastern Congo rebuild their lives after war", the UN said on its Africa Renewal webpage.
Media in DRC face 'a series of attacks and censorship acts'
According to media NGO Journaliste en Danger, agents of the security services allegedly carried out "a series of attacks and censorship acts" against journalists and media in several parts of the country last week. In a statement, JED urged "the Congolese authorities in charge of justice and security to launch an urgent appeal for calm, and order the release of all detained journalists and media arbitrarily closed".
Questioned by AFP, the government spokesman, Lambert Mende, declined to comment.
Freedom of information is constantly violated in the DRC, according to Reporters Without Borders. Journalists are exposed to threats, physical violence, arrest, prolonged detention and even murder in the hands of the army, police and security services. The country ranks 152nd in the organisation's 2016 World Press Freedom Index.