DRC: 'We thought things would be manageable but that's when we started hearing gunshots'
IBTimes UK speaks to a witness of the violence of 19 September in the DRC's capital Kinshasa
As night falls on the Democratic Republic of Congo, residents of the capital Kinshasa are reeling from a day of violence after clashes between security forces and protesters left at least 17 dead, including three police officers.
The peaceful march to demand that President Joseph Kabila steps down from power when his second full term expires turned violent after police fired tear gas and live bullets to disperse hundreds of stone-throwing youths.
IBTimes UK spoke to Patrick Mulemeri, a Congolese activist and co-ordinator of Congo Peace Network (CPN), who was in Kinshasa during the violence on 19 September.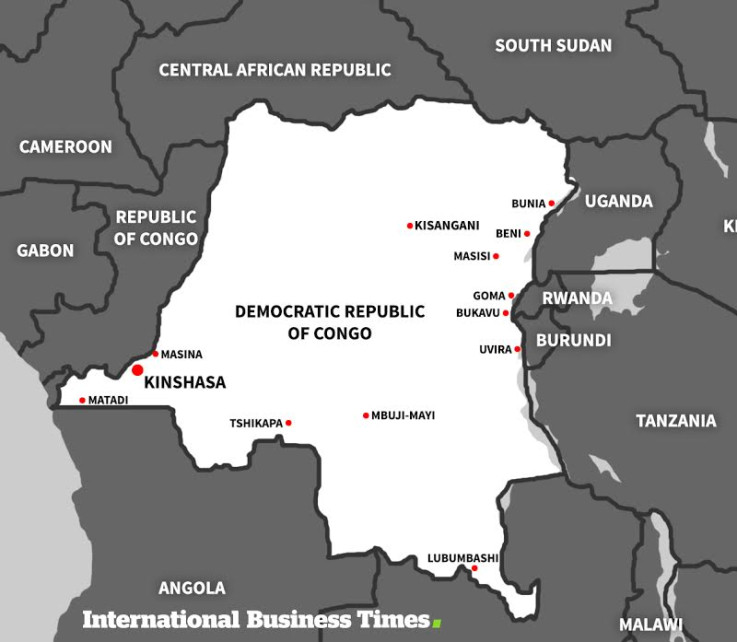 A map showing the huge size of the Democratic Republic of Congo
IBTimes UK
"I can confirm that people were killed during the protests. The situation started degenerating before midday. The demonstrations started with little groups of people forming, which grew in size, and police were deployed everywhere in the streets of Kinshasa, as usual, to regulate the demonstrations that had been authorised by the authorities," he exclusively said in an interview from a secret location in Kinshasa. "We thought things would be manageable but that's when we started hearing gunshots, fired everywhere.
"People answered back by throwing rocks and in this cacophony, some people died. We know some onlookers took advantage of the situation to start looting small shops, and we heard others talk about heading to some political parties' headquarters close to the regime," he added.
The activist confirmed that, at 5.05pm local time, he could still hear occasional gunshots.
"Kinois [residents of Kinshasa] remain on alert tonight. I'm not going to speak about fear, because for some people who we spoke to today, these demonstrations are like a training ground for 19 December [when President Kabila's mandate ends]. If protesters descended to the streets, it's to practice how they will behave on 19 December. Fear is not there.
"But there is tonight an automatic reaction of the population who, when there are demonstrations like that, prefers to stay at home. This creates a situation of 'Ville Morte' [general strike] everywhere here. So this gives the impression that the whole population supports the idea that only one part is in the streets," the activist explained.
"But those people who stayed at home share the same feeling that things need to change, according to our Constitution, and that there is no reason for people to be killed, because they are just asking for their rights to be respected."
Information minister Lambert Mende confirmed 17 people had been killed in clashes in the capital – 14 civilians and three policemen.
Congo Peace Network has developed a number of programmes in the DRC, including prevention and conflict resolution, respect of human rights, justice reform and protection of human rights defenders, civic education and child protection.