There have been growing uncertainties over whether the Democratic Republic of Congo (DRC) prosecution would carry on with a trial of opposition presidential candidate, Moise Katumbi, regarding the allegations that he hired foreign mercenaries to destabilise the government in Kinshasa.
The former governor of the Katanga province, who was back in court for the third time on 13 May 2016, was admitted to hospital in Lubumbashi for exhaustion and tear gas poisoning after he was assaulted after leaving a courthouse around 90 minutes after his arrival. Authorities also fired tear gas at masses of people and beat them back, according to AFP. The judge allowed Katumbi, a one-time ally of President Joseph Kabila, to seek medical assistance for his injuries.
Sources close to Katumbi on Tuesday (17 May) told IBTimes UK the leader, who was injured during the clashes, remains hospitalised. They denied claims from local media that the opposition leader was in a "serious condition".
"He is still in hospital. There has been a bit of a war between doctors about whether he should be released or not," a source within Katumbi's entourage, who asked to remain anonymous, said over the phone on 17 May. "He is combative and is not at all between life and death, as some have been reporting."
Potential accusations of 'disturbing public order'
Katumbi's close entourage has accused DRC's regime to slap opposition leaders, including Katumbi, with trumped-up charges. On Friday, the security forces allegedly "wanted to create chaos so they could then accuse Katumbi of disturbing public order, because we believe they are slowly realising that they don't have a case against him [over mercenary activity allegations]," the source said.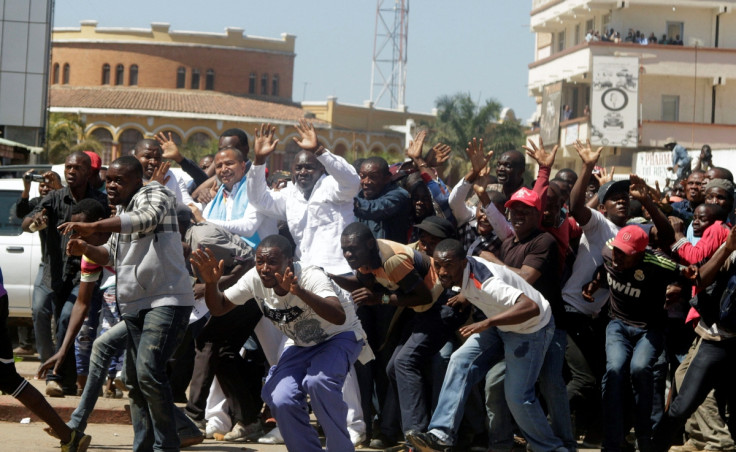 The claims come after the opposition coalition G7 and pro-democracy activist group Filimbi both told IBTimes UK they were concerned that Katumbi may be removed from the presidential race.
The organisation's coordinator, Floribert Anzuluni, said: "This seems to be an attempt to neutralise because the power seems completely lost due to the fact that President Kabila officially lost the support of Katanga since the G7 and Moise left the presidential majority."
Justice Minister Alexis Thambwe Mwamba ordered an investigation into accusations that Katumbi had hired foreign mercenaries – including US citizen Darryl Lewis – on 4 May, the same day that Katumbi accepted his nomination as presidential candidate by three Congolese opposition movements. Katumbi has vehemently denied the "grotesque lie" while the US Embassy in the capital, Kinshasa, said it was "deeply concerned" about the allegations that it "believes to be false".
Western governments considering sanctions
Presidential elections are due to be held in November 2016, but Kabila has not commented publicly on whether he plans to step down when his second term expires, as he would be required to do, according to the constitution. On 11 May, the DRC's Constitutional Court declared that under Article 70, Kabila could remain in power beyond the end of his mandate if elections do not go ahead in November.
France, United Kingdom and Belgium may seek EU sanctions against those to blame for "acts of repression", while the United States Embassy in Kinshasa last week told IBTimes UK that it is considering imposing sanctions if Kabila does not step down from power once his second full term in office expires in December.
Kabila came to power in 2001 after succeeding his father, Laurent Kabila, following his assassination.