The son of imprisoned Mexican drugs cartel boss Joaquin 'El Chapo' Guzman may be among a group abducted by gunmen at a restaurant in the beach resort of Puerto Vallarta, authorities have revealed.
Prosecutors initially said a group of 10-12 men were abducted from the upscale restaurant on Tuesday (16 August), however they later revised their statement to say that six men had been abducted by an armed gang.
Jalisco Attorney General Eduardo Almaguer told local radio that "it is presumed", though not yet certain, that Ivan Archivaldo Guzman, the son of the notorious cartel boss, was amongst the kidnapped, AP reported.
However he cautioned that it was not certain that Ivan Archivaldo was among the kidnapped, adding that fake identity cards were found at the scene.
Ivan Archivaldo is believed to have taken control of parts of his father's business after his arrest in January.
Puerto Vallarta, in the state of Jalisco, is one of Mexico's most popular tourist destinations. The state is home of the Jalisco New Generation cartel, which in recent years has become one of the country's most powerful.
Who is Joaquin 'El Chapo Guzman'?
Nicknamed 'El Chapo' ('Shorty') due to his small stature, Guzman is regarded as the world's most powerful drugs trafficker. He was named one of the most powerful people in the world for several years by Forbes magazine, and his wealth is estimated to surpass $1 billion.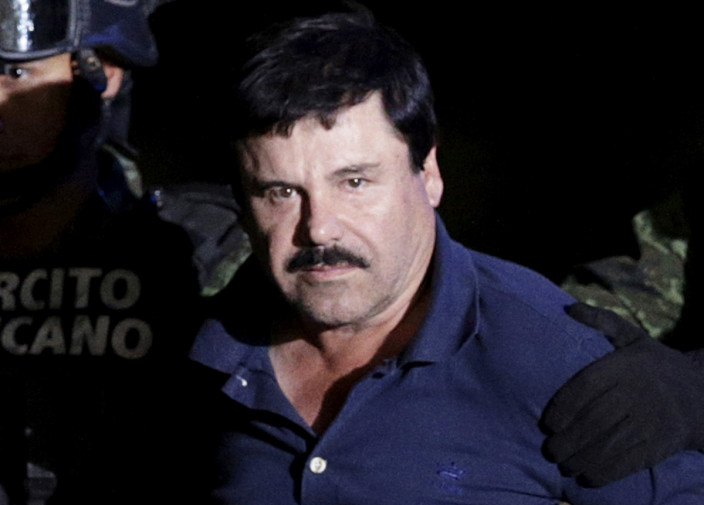 His Sinaloa Cartel exported multi-ton shipments of drugs including cocaine, methamphetamine and heroin from Mexico to the United States, often using a sophisticated cross-border underground tunnel networks.
Guzman became a folk hero in his impoverished home state of Sinaloa and his prison breaks were celebrated in music, despite his organisation being responsible for the deaths of thousands, including innocent civilians. He was first able to escape maximum security prison in 2001, after allegedly being smuggled out in a laundry basket. He was recaptured in 2014, but made his escape again in 2015, fleeing through a mile-long tunnel burrowed beneath the prison. He was recaptured following a gunfight with Mexican marines in Sinaloa in January.
The boss of the Sinaloa Cartel, 'El Chapo' Guzman, was one of the world's most powerful criminals and one of Mexico's wealthiest men. He was re-arrested in January, after staging an audacious escape from a maximum security Mexican prison six months earlier.
His lawyers are attempting to block his extradition to the US to face trial.