MPs are to investigate an arms fair held annually in east London after a judge ruled there is "compelling evidence" weapons are on show which are then used to abuse human rights. Eight protesters who were arrested attempting to block a delivery of military equipment to the Defence Security and Equipment International (DSEI) event at the ExCel centre in London's Docklands in 2015 were cleared of all charges after a judge accepted their arguments there were attempting to stop a "greater crime".
The defendants argued that some of the weapons sold at the arms fair have gone on to be used by regimes in counties such as Bahrain against pro-democracy protesters and in Saudi Arabia to be used in attacks on Yemen.
District Judge Angus Hamilton at Stamford magistrates' court threw out the charges of wilful obstruction of the highway against the activists as he ruled they were attempting to "uphold the rule of the law" as the unlawful sale of arms "would almost certainly be occurring" at the DSEI event.
Hamilton said: "The actions taken by the defendants were relatively minimal without being completely ineffective.
"As the preceding paragraphs indicate I believe that the defendants were perfectly sincere in their conclusions first that the unlawful sale of arms would almost certainly be occurring at DSEI and, secondly, that their intervention was necessary to seek to prevent this. It follows that I cannot be sure that the force used by any of these defendants was not reasonable in the circumstances as they believed them to be."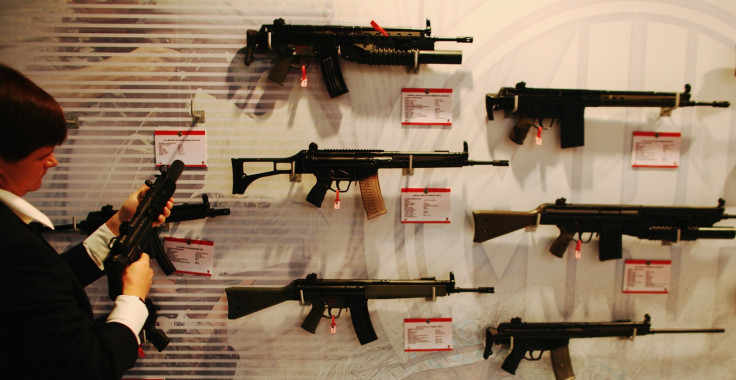 The conclusion of the trial last week coincidently took place on the same day the parliamentary committee on Arms Export Controls (CAEC) launched an inquiry into the Arms Trade Treaty (ATT), a multilateral treaty that regulates the international trade in conventional weapons.
Following the acquittal of the eight protesters, the committee confirmed it will be looking into the claims weapons are being sold illegally at DSEI as part of the inquiry but will not be "explicitly focusing on it".
Committee chair Chris White MP said: "There have been claims however that loopholes in the treaty are rendering it less effective than it should be, for example, allowing the export of high-powered shotguns if marketed for hunting. We have launched this inquiry to assess how the ATT has improved regulation in practice, and if there are any areas where it can be strengthened."
A spokesperson for DSEI told IBTimes UK: "All our exhibitors are contractually bound to ensure that they exhibit at DSEI in a manner which is compliant with all relevant arms control legislation. We are explicitly clear that any exhibitors or individuals found to be in breach of compliance regulations at DSEI will be immediately ejected."