Eight protesters who were arrested attempting to block a delivery of military equipment to an arms fair in east London have been cleared of all charges after a judge accepted their actions were based on the probability illegal weapons were being sold inside.
The defendants, five men and three women, were accused of wilful obstruction of the highway following the protest outside the Defence Security and Equipment International (DSEI) event at the ExCel centre in London's Docklands in 2015.
During the trial at Stamford magistrates' court, the defence said the activists were attempting to "uphold the rule of the law" by blocking access to the arms fair after it was found illegal weapons were sold there in previous years.
Kat Hobbs, coordinator of Campaign Against the Arms Trade (CAAT), told the court Bahrain had been invited by the UK government to previous DSEI exhibitions in 2009, 2013 and 2015 despite the regime using weapons against pro-democracy protests. There was also evidence of UK-manufactured arms being sold to Saudi Arabia to be used in attacks on Yemen, including BAE Systems fighter jets and Raytheon's Paveway bombs.
One of the defendants, Thomas Franklin, 57, said he attempted to block access to the exhibition so weapons could not be sold to regimes that abuse human rights and the act was "in preparation for a crime". He told the court: "In every single previous arms fair, that had been found to be happening. We have evidence of that. We have parliamentary reports, we have reports from Amnesty International, we have reports from Caroline Lucas, the Green MP, listing illegal weapons being sold."
District Judge Angus Hamilton said the prosecution could not prove the defendants did not have a reasonable belief they could stop crime through their actions as there was "compelling evidence" that arms sales at DSEI were for repression and human rights abuse. He added: "It was not appropriately investigated by the authorities. This could be inferred from the responses of the police officers, that they did not take the defendants' allegations seriously."
Isa Al-Aali, Angela Ditchfield, Lisa Butler, Thomas Franklin, Javier Gárate Neidhardt, Susannah Mengesha, Luis Tinoco Torrejon and Bram Vranken have now been cleared of the charges against them. In a joint statement, they said: "We were compelled to try to prevent war, repression, torture and genocide and we stand by our actions.
"We do not believe that we should have been on trial this week and denounce the UK government's complicity and actions in supporting the arms trade; and in perpetuating war and repression around the world. We oppose the sale of arms based on corporate greed and profit and seek radical change.
"We come from the UK, Bahrain, Belgium, Chile and Peru in the believe that as the arms trade takes place at a global scale, our resistance has to be global and it should have no borders. Over the week, we have put DSEI and the arms trade on trial and we have proven them to be illegitimate. Our only regret is that we didn't succeed in shutting down DSEI.
"Our thoughts are with the people who suffer as a result of the arms trade and the survivors of repressive regimes, torture, war and conflict. We call on more people to join us in our efforts to shut down DSEI 2017 and take collective action to end the arms trade."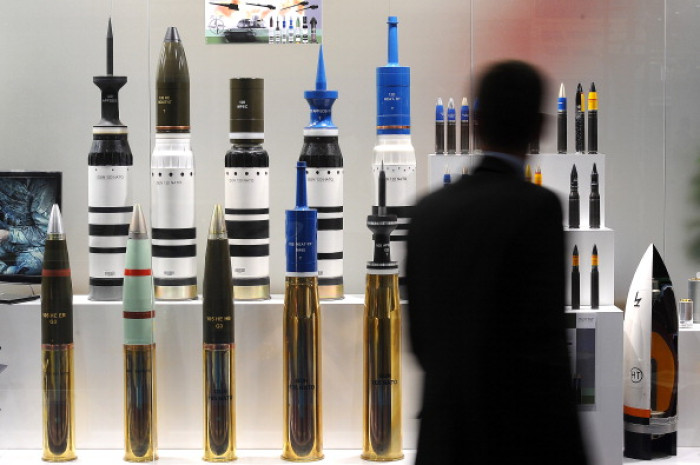 A spokesperson for DSEI told IBTimes UK: "HMRC, the Department for Business, Innovation & Skills (BIS) and other Government agencies, hold responsibility for enforcing the law in respect of UK Export controls at DSEI. As organisers, we take compliance at DSEI seriously and are constantly working with these Government Departments and agencies to refine our compliance processes in order to ensure that they are as robust as possible. As a result of this close cooperation, and the processes put in place, compliance regulations were not breached at DSEI 2015.
"Representatives from HMRC, BIS and other agencies were present in the run up to and throughout DSEI 2015. They had free and totally unrestricted access to all exhibitors in order to undertake checks that all equipment, services, documentation and any other forms of promotion complied with UK, EU and international law. They were supported in this work by an internal DSEI compliance team. These checks took place with reference to products and services classified as Category A under the terms of the Export Control Act 2002.
"DSEI's activities in respect of compliance, including the attendance of HMRC, BIS and all other relevant Government agencies at the event, are covered by the Memorandum of Understanding signed between Clarion, the Export Control Organisation and BIS. As such our access policies for both exhibitors and visitors have been developed following consultation with a number of government departments.
"All our exhibitors are contractually bound to ensure that they exhibit at DSEI in a manner which is compliant with all relevant arms control legislation. We are explicitly clear that any exhibitors or individuals found to be in breach of compliance regulations at DSEI will be immediately ejected."