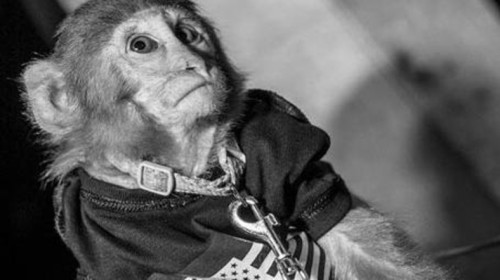 A Dubai nightclub has been accused of animal abuse after pictures of a monkey on a leash at the venue caused an outrage on social media.
Furious residents called for a boycott of the Vanity nightclub after snaps of the monkey were posted on Facebook with the logo "Blackout DXB" – the name of the Tuesday night.
Pictures showed a close-up of the animal, a man posing with the monkey on its shoulder and even a man who appears to offer an alcoholic drink to the simian.
The nightclub removed the pictures from its official Facebook page and released a statement denying any knowledge of the monkey.
"We would like to state that Vanity Nightclub Dubai has never 'knowingly' allowed nor will allow any animals into our premises," reads the statement.
"Concerning the incident that occurred last Tuesday, the 27th January 2013, the owner along with his animal, were immediately removed from the premises once staff were alerted. The owner and his party that attended on the night have been banned from ever entering the venue again."
"We thank you all for expressing you're concerns and please be certain that we share the same view as everyone when it comes to the treatment of animals," it said.
The monkey was wearing a T-shirt with the 'Blackout' brand, according to reports.
Sabrina Walle, managing director at Petzone Veterinary Clinic in Dubai, told 7Days a club was "physically and psychologically not the right environment for a monkey".
Some club-goers said they will never set foot in the venue again. Tiya Fazel told 7Days website: "It's disgusting. Absolutely shameful. I know a DJ who says he's ashamed to be involved in the nightlife scene in Dubai after seeing this."