Dubai to use world's first personal jetpack to fight fires on high-rise buildings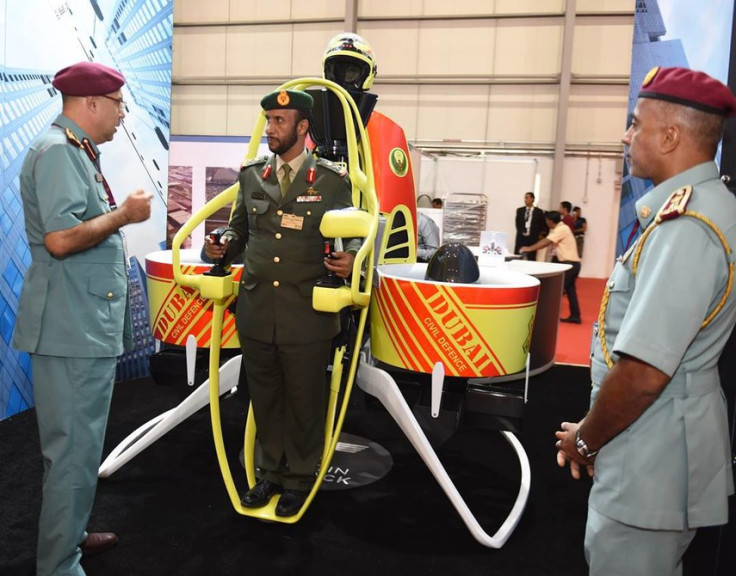 Dubai has signed a deal to become the first city in the world whose firefighters will use personal jetpacks to fly and hover in the air to deal with fires and emergency situations that occur in its high-rise buildings, which are much harder to access. The Martin Jetpack is the world's first ever personal jetpack, created by New Zealand-based Martin Aircraft Company following 30 years of research.
The jetpack is powered by a V4 200 horsepower petrol engine controlling two ducted fans. Using vertical take-off and landing (VTOL), it can fly at a speed of 74km/h, gaining altitudes of up to 1,000m (3,280ft), for just over 30 minutes at a time.
The jetpack can carry a maximum load of 120kg (19st), a weight-restriction that is unlikely to rule out many operators. The device is designed to help emergency services responding to natural disasters and other critical situations, as it can land on uneven surfaces, travel to a great height quickly and fly into a confined environment, such as the narrow gap between two skyscrapers.
At the moment, this is impossible for emergency responders, who have to traverse buildings on foot or use the cherry picker aerial platform on a fire engine. Most aerial platforms on fire engines only extend up to a maximum height of 100ft, and while there are cherry pickers on their own that can go up to 328ft, this is still not high enough for emergencies in towering skyscrapers.
First significant deal for Martin Aircraft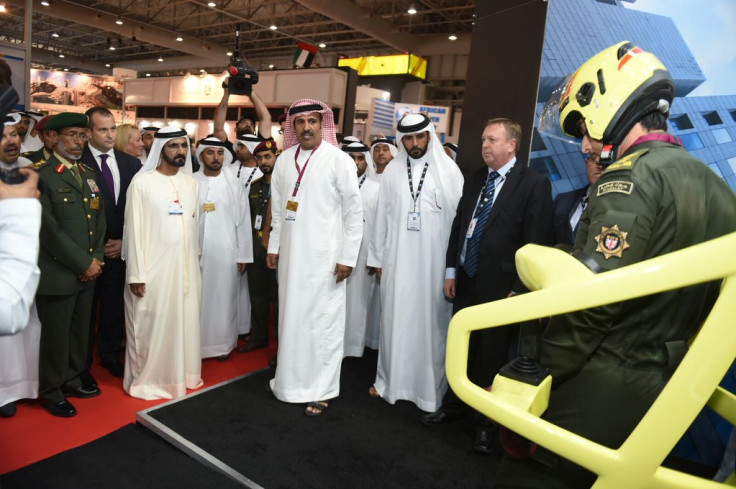 Members of Dubai's and New Zealand's governments look on during a demo of the Martin Jetpack technology at the Dubai Air Show
Martin Aircraft Company
The Martin Jetpack won't be commercially available until mid-2016 and each jetpack will retail at $150,000 (£95,300), but prototypes of the jetpack and simulators were on show in June at the Paris Air Show to give people a feel of what it would be like to pilot and fly in one.
On 9 November at the Dubai Air Show, with representatives from the New Zealand and Dubai governments present, Martin Aircraft signed an agreement with Dubai Civil Defence to provide 20 manned and unmanned jetpacks, two flight simulators, as well as spare parts, support and pilot and engineer training for Dubai's Civil Defence and Fire Service personnel.
"The vision of Dubai Civil Defence (DCD) is protecting lives, properties and environment and to provide fast professional service, efficient investment of human and material sources to give best results," said Lt Col Expert Ali Hassan Almutawa, director of operations at Dubai Civil Defence.
"Dubai is one of the fastest growing future cities in the world with its modern skyscrapers and vast infrastructure [and] it has always been a world leader in adapting new technology to improve and save people's lives. The introduction of Martin Jetpacks into our fleet of emergency response vehicles is another example of how Dubai leads the world."
Jetpack developed in a garage
The Martin Jetpack was invented by Glenn Martin, who decided to make a personal jetpack after a night out with friends. At the time, rocket technology could only fly jetpacks for less than 30 seconds at a time, and the pilot would have to weigh less than 70kg (11st).
Martin weighed 100kg (15st 7lb), so he kept working on his invention until in 1998 the prototype he built in his garage was able to lift his wife off the ground when he strapped her into it.
Today, the firm is backed by KuangChi Science, a big Chinese entrepreneurial investor, with Martin Aircraft Company joining KuangChi in the HKCo joint venture, which will look to develop and distribute the Martin Jetpack in China and Hong Kong when it has been fully commercialised in 2016.
© Copyright IBTimes 2023. All rights reserved.