You could be forgiven for thinking that The Duke and Duchess of Cambridge were just a little star-struck as they rubbed shoulders with movie star Jackie Chan today (21 October). The actor joined the royals at a 'Creative Collaborations: UK & China' event at Lancaster House, which showcased some of the creative collaborations between China and Britain to mark the second day of Chinese President Xi Jinping's state visit to Britain.
William and Kate couldn't hide their excitement, as they posed for photos with the kung-fu action hero. The group were attending a showcase of British artistic talent in a display that included a hat by leading British milliner Philip Treacy, a Dalek and Tardis from Doctor Who, and James Bond's Aston Martin.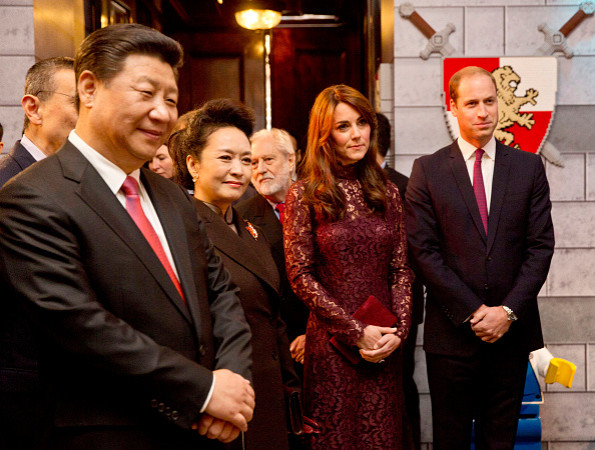 The VIP group were also treated to a sneak preview from the next series of the BBC period drama Poldark, which will be available in China from December. Getting a taste of TV production, they watched demonstrations by BBC Earth, Sherlock, and the Society of London. An enthusiastic Prince William chatted casually with the actors while Chan stopped for selfies with fans.
It was revealed that an agreement between the two nations will see the forthcoming Sherlock Christmas special shown across China as well as a new series of BBC documentaries, Coast and The Hunt.
Chan urged the royals to "support Chinese movies' adding "I think [the visit] really helps for the culture exchange," he said. "Right now, China is one of the bigger markets. Collaboration really helps me to create new ideas."
The guests also met Richard Bradley, managing director of British TV firm Lion Television whose team has worked with China's CCTV10 station to make a documentary about the life of the 5th century BC Chinese philosopher Confucius. Much to the President's delight they were also given a glimpse of James Bond's Aston Martin DB10 sports car ahead of the royal premiere of Spectre in London on Monday which both William and Kate will both attend.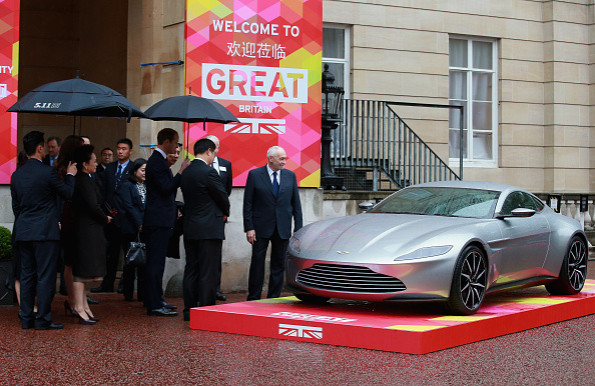 And while the hosts and the guest were all smiles, there was something of a sartorial showdown between the president's wife and British style icon Kate. While First Lady Peng Liyuan is a fashionista in her own right, she was no match for The Duchess of Cambridge who stole the show in a flattering plum-coloured lace dress by Dolce Gabbana.
The President and his wife, Madam Peng Liyuan, are paying a state visit to the UK as guests of the Queen. They are staying at the Buckingham Palace and have engagements in London and Manchester. The last state visit paid by a Chinese president to the UK was Hu Jintao in 2005
It is hoped the President's state visit will secure more than £30 billion of trade deals, including huge investments in infrastructure projects.